In pain? Pre-empt future falls by reducing risk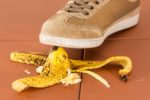 Pain in more than one area of the body is associated with an increased risk of falling in people aged over 50 years, says a new study in Arthritis Research & Therapy.
A team of researchers looked at the evidence and found that those reporting multisite pain have double the odds of a future fall compared to their pain-free counterparts.
"Increasing public awareness of multisite pain as a falls risk factor and advising health and social care professionals to identify older people with multisite pain to signpost accordingly will enable timely falls prevention strategies to be implemented," they conclude.
Doing regular strength exercises and balance exercises can improve your strength and balance, and reduce your risk of having a fall. Make sure long-term medication is reviewed at least once a year, especially if you are taking four or more medicines a day. Avoid drinking too much alcohol and have a sight test just in case.
Top tips to avoid falls at home
Immediately mop up spillages
Remove clutter, trailing wires and frayed carpet
Use non-slip mats and rugs
Have high-wattage light bulbs in lamps and torches so you can see clearly
Organise your home so that climbing, stretching and bending are kept to a minimum, and to avoid bumping into things
Do not walk on slippery floors in socks or tights
Avoid wearing loose-fitting, trailing clothes that might trip you up
Wear well-fitting shoes that are in good condition and support the ankle
Take care of your feet by trimming your toenails regularly and see a GP or chiropodist about any foot problems
You can request a home hazard assessment from your GP or local authority if you're concerned that you or a relative may be at risk of having a fall, or if you know someone who has recently had a fall. (Source: NHS Choices)
Click here to read the original research 
Arthritis Digest Magazine was selected by Feedspot as one of the Top 5 Arthritis Blogs on the internet in 2018.
For more in-depth features, interviews and information, subscribe to Arthritis Digest magazine, a popular title that's published six times a year. Click here for the digital version or tel 0845 643 8470 to order your had copy. You'll know what your doctor is talking about, what new drugs are in the pipeline and be up to date on helpful products.