Injection of synthetic chilli pepper extract – trans-capsaicin – reduces arthritis knee pain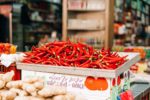 A single injection of trans-capsaicin, a synthetic treatment based on the extract that gives chilli peppers their spicy taste, was found to lower osteoarthritis knee pain and have a good safety profile in a study reported in Arthritis and Rheumatology.
A total of 172 people aged 45 years to 80 years with knee osteoarthritis were split into groups: single injection of placebo; 0.5mg trans-capsaicin; or 1mg trans-capsaicin.
Three months after the injection, people who had the trans-capsaicin were more likely to have reduced knee pain. Improvements were maintained at six months for people who had the higher dose. Treatment-related adverse events were similar between the placebo group and the 1mg trans-capsaicin group.
"Trans-capsaicin works in a way that is different to existing therapies – it does not have to be continuously present in the joint to produce a significant, long lasting analgesic effect," researcher Dr Randall Stevens, explains to Healio Rheumatology. "Patients with moderate to severe pain from knee osteoarthritis, including moderate to severe radiographic damage, with a body mass index up to 45kg/m2 and have failed prior treatment, can, from a single 1mg [trans-capsaicin] injection, have substantial reduction in pain and 49% to 60% improvement in knee stiffness and function. This has onset by the second day and a duration of benefit of up to six months, all while having a side effect profile that is similar to placebo."
Arthritis Digest Magazine was selected by Feedspot as one of the Top 5 Arthritis Blogs on the internet in 2018.
For more in-depth features, interviews and information, subscribe to Arthritis Digest magazine, a popular title that's published six times a year. Click here for the digital version or tel 0845 643 8470 to order your had copy. You'll know what your doctor is talking about, what new drugs are in the pipeline and be up to date on helpful products.