It is uplifting to realise that although I might not be able to do everything that I used to, I can still lead a happy, fulfilling life, says Mort Smith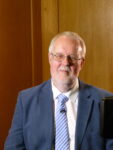 I have painful osteoarthritis in both knees and was scheduled to have a knee replacement operation in May 2020, which was postponed due to the COVID-19 pandemic; I was left to deal with my symptoms alone.
My knee pain has become so bad over the past few years that I have had to give up on my main leisure interests of golf and sailing. Even playing with my grandchildren became difficult. I felt helpless and depressed.
I came across Arthritis Action in early 2020 and noticed it was holding a two-day seminar for people living with arthritis in Colchester. My wife and I attended the event and found it to be a real eye-opener.
Support
The lady hosting the event revealed that she had both knees and shoulders replaced because of arthritis, but was now back playing golf. That was an inspiration for me. It felt reassuring to be surrounded by 15–20 people facing the same problems and I realised I wasn't alone in my struggle.
Osteoarthritis can make you feel that your world is shutting down. The feeling that you've reached an age where your body is wearing out and you are unable to do many things that you might have wished to do in your retirement. It was uplifting to realise that there are other ways of doing things and I can still lead a happy, fulfilled life despite having arthritis.
After the COVID-19 lockdown began, I attended a number of online group catch-ups with other people living with arthritis in Colchester, hosted by Arthritis Action. These meetings allowed me to stay in touch with other people even while isolating at home. That feeling of community that I get out of the group meetings has helped me hugely during these unique times.
Something else that has improved my quality of life is learning simple exercises to build up the muscles around my knees, as well as reading up on the importance of nutrition and keeping in shape. There's a lot of information out there on what I can do to improve my condition. Arthritis isn't the end to my hobbies that I initially thought it was. I feel more hopeful about my future, and far more supported.
For more on Arthritis Action visit www.arthritisaction.org.uk or tel 020 3781 7120.