Joint pain getting you down? A hydrotherapy minibreak could be just the tonic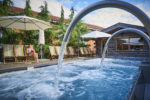 From bathing in naturally formed hot springs to soaking up essential oils, the healing properties of waters have been a vital part of cultures over the millennia and continue to be so today. Read on for a round-up of UK destinations that offer hydrotherapy…
Waterfront Hotel, Bedfordshire
Set within a 350-acre estate that has an impressive glittering lake, the four-star Waterfront Hotel has recently added The Y Spa to its list of attractions. And it does not disappoint.
The outdoor thermal area includes a hydrotherapy pool in a redbrick courtyard. It has two water jets, jacuzzi-style seats and reclining underwater benches. At night you can bathe surrounded by fairy lights or cosy up by the fire in the pagoda. Other spa features include a sauna, steam room, salt inhalation room and ice wall. As the thermal facilities are all located on one level, accessibility is no problem.
Visit www.thewaterfronthotel.co.uk or tel 0330 4048881.
Salcombe Harbour Hotel, Devon
The award-winning Salcombe Harbour Hotel & Spa has been cited as one of the most desirable hotel destinations in the UK. Surrounded by uninterrupted coastal and Salcombe estuary views, its location is fantastic.
During your stay, take full advantage of the deluxe spa that boasts a hydrotherapy pool, swimming pool, sauna, steam room and fitness suite. The hydrotherapy pool is heated to a comfortable 35 deg C to prompt pain relief and encourage circulation.
Visit www.harbourhotels.co.uk/salcombe or tel 01548 84444.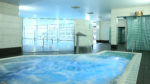 Norton House Hotel & Spa, Scotland
Situated just outside central Edinburgh, the Norton House Hotel is a gorgeous Georgian country house. The spa is in a separate building and can other be used in conjunction with an overnight stay or as a day spa escape. Focusing on hydrotherapy, the pool is screened off from the main spa area and flaunts bubbly air beds and a powerful swan pipe to help soothe tired muscles.
Visit www.handpickedhotels.co.uk/nortonhouse or tel 0131 333 1275.
Lifehouse Spa & Hotel, Essex
The Lifehouse Spa & Hotel near Clacton-on-Sea is an adult-only oasis that offers a break from the outside world. Beautiful gardens surround the contemporary hotel and a tranquil spa will rejuvenate the mind, body and soul. Facilities include a pool, gym, sauna and steam room. A large hydro-pool accommodates up to 12 people and includes swan jets, air beds and bubbly seating.
Visit www.lifehouse.co.uk or tel 01255 860050.
The Kinmel & Kinspa, Wales
Surrounded by farmland and rolling hills, the Kinmel was formerly the Kinmel Manor, so the oldest parts of the building date back to 1570 and the building is steeped in history and full of charm and character.
The Kinspa, on the other hand, is a modern extension with a lower level thermal area, the hydro-pool being the main attraction. Powerful jets and seating for four are not all this pool has to offer. Peek through the water curtain and you will find a much larger area that includes a swan neck fountain and sliding entrance that leads to the great outdoors and stunning tree-lined views. Other facilities include a steam room, sauna, nine-metre pool and a relaxation area.
Visit www.thekinmel.co.uk or tel 01745 832014.
Spa Verta, London
Award-winning Spa Verta is situated in the basement of the Crown Plaza Hotel in Battersea, an urban location that has outstanding views over the River Thames. Spa facilities include a sauna, sanarium, steam room, foot spa, experience showers and an impressive 10-metre raised hydro-pool. The pool is complete with lower jets to ease joint pain, round bubbling chairs, swan-neck fountains and a gold mosaic wall.
The more active may enjoy the small gym on offer and the relaxation area will be a favourite with all guests. And afterwards? Enjoy a scrumptious gastro-pub style lunch or dinner in the hotel whilst admiring the sights.
Visit www.spavertalondon.com or tel 0871 222 0025.
Click here to read more about hydrotherapy and arthritis – the evidence, expert opinion and where to find a good practitioner.