Joint replacement can be a positive life-changing event for people with arthritis outlines orthopaedic surgeon, David Stock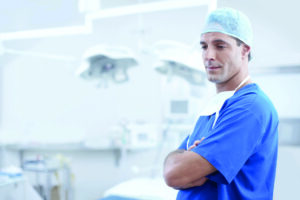 Pain is the main reason that people come to see me due to arthritis. The pain can vary from a slight niggle to a severe pain, and anywhere in between. When pain leads to sleep disturbance people will invariably seek help, as it will affect not only their quality of life, but also other people in the family
The second reason people come to see me is usually due to loss of function. Joint stiffness and pain can mean that they can't do the things they want to do… be it hill walking, going to a football match or getting dressed in the mornings.
Most of my patients are over 70 years old and this age is increasing due to people living longer and the baby boom after World War Two.
Many people are less active, this can cause them to put on weight which makes their joint pain worse. This exacerbates the joint issues in a vicious circle.
First steps
When I see patients, I take a full medical history, followed by an examination of the joint in question. My team arranges any investigation, often an MRI scan.
Surgeons should take a conservative approach when treating arthritis, in accordance with NICE guidelines, the gold standard of patient care that we subscribe to in the UK. The advice about how osteoarthritis should be managed is clear – start treatment with non-invasive, simple steps.
Firstly, we advise people with osteoarthritis to exercise to strengthen their muscles and improve general fitness. If exercise is difficult, try non weight bearing activities such as swimming or walking in a swimming pool.
Physiotherapy can strengthen and maintain the range of movement of the joint.
Losing weight (when people are overweight or obese) can alleviate pressure on the joint, reduce pain and improve function.
Shock-absorbing shoes are helpful for people with arthritis to reduce impact through the joint. Occasionally braces can help.
Painkillers can be important. NICE guidelines suggests that paracetamol and pain-relieving creams that are applied to the skin of the affected joint should be considered ahead of oral anti-inflammatory painkillers and anything stronger. The use of painkillers should be discussed with your GP.
The aim of treatment is to maintain quality of life for as many years as possible. Only when we have exhausted all the options do we discuss surgery.
Surgery involves replacing the damaged parts of the joint. Surgeons train over many years to enable us to perform these operations.
Prepare for surgery
Before surgery, people should prepare their bodies, and, as discussed, pay attention to their weight. Improve cardiovascular fitness and build up muscle strength. People who have additional conditions such as diabetes, should ensure that these are under control.
We recommend that patients spend time getting their homes ready as well. Ask a family member or neighbour to be on hand to bring in fresh bread and milk for the first couple of weeks after surgery, or arrange a regular food delivery. Stock up the freezer with meals.
Cables, leads and rugs are trip hazards, and should be removed. It may be helpful to set up a bed downstairs. Daily living aids such as a raised toilet seat and grab rails may be supplied by the hospital.
After surgery
Evidence shows how important it is to have people up on their feet soon after surgery. Increasingly, patients tend to go home the day after hip and knee surgery.
We see patients again about 10 days after surgery, at which point we remind them of post-operative advice including exercises and physiotherapy.
Physiotherapy varies from place to place. If little is available, it is possible to pay for this privately.
Complications
As in all aspects of life, complications can occur. These are minimalised, but we do have a thorough discussion with every patient about potential risks. Patients are given literature to take home to read in their own time. At the pre-op assessment in the days leading up to surgery, the risks are explained again so that everybody is well informed.
The bottom line
Arthritis doesn't kill you, but it can take your life away. The number of people needing joint surgery in the UK continues to rise. The outcomes are usually extremely positive. Joint surgery enables the vast majority of people to do the things they want to, improving quality of life for thousands of people every year.
David Stock is a consultant orthopaedic and trauma surgeon at Northampton General Hospital. He operates a private practice too, visit www.davidjstock.co.uk or tel 01604 795412 for further information.
PS Did you know that Arthritis Digest Magazine is labelled the best UK Arthritis blog from thousands of blogs on the web ranked by traffic, social media followers, domain authority & freshness?