The Isle of Wight is home to dramatic coastal scenery, wonderful food… and dinosaur footprints, reports Ivo Kosa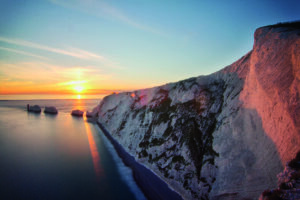 A popular holiday destination since Victorian times, The Isle of Wight is a little milder and sunnier than the rest of the UK. As well as better weather, the island boasts diverse wildlife, plenty of accessible attractions, and must-try foodie haunts.
Getting there
The most common means of travel is via ferry from Portsmouth, Southampton or Lymington; the crossing is only around 45 minutes. Take a car… or travel by foot, as rail and bus links make for a straightforward trip. Visit www.wightlink.co.uk or tel 0333 999 7333.
What to do
One of the best-known attractions on the Isle of Wight is The Needles, located on the western-most point of the island. The row of three stacks of chalk rises dramatically about 30m out of the sea and can be viewed via chairlift or even boat. All public areas of the site (except for the beach) are accessible via wheelchair. Visit www.theneedles.co.uk or tel 01983 752401.
Nearby, pick up some beautiful and unique glassware from Alum Bay Glass and watch live demonstrations from skilled local craftspeople. Visit www.alumbayglass.co.uk or tel 0871 720 0022.
Those with a sweet tooth will enjoy watching local confectioners create sweet treats in front of their very eyes… and sampling the results at The Isle of Wight Sweet Manufactory. Tel 01983 752401.
Another must-see attraction is the Isle of White Steam Railway, where staff provide every possible assistance when it comes to accessibility. Take a journey through history via beautifully restored Victorian and Edwardian steam locomotives and stations modelled in the style of different eras. Stop along the way to enjoy the scenic countryside. And when you've finished, take a tour of the Train Discovery Museum. The trains are accessible by wheelchair, along with the museum and carriage and wagon workshops. Visit www.iwsteamrailway.co.uk or tel 01983 882204.
Towards the north of the island, Osborne House – the holiday home of Prince Albert and Queen Victoria – offers sumptuous state rooms, gardens and grounds. Accessibility to the first floor is provided by lift, and wheelchair loan is available for those who need it. On-site travel is made easier thanks to an adapted minibus that can take people to Queen Victoria's beach. Visit www.english-heritage.org.uk or tel 01983 200022.
Must eat
The Isle of Wight boasts an impressive range of dining options and many delicious products are grown, reared and made on the island. Whatever you're looking for, you'll be able to find it, from seafood to Sunday roast, small cafes to Michelin-starred restaurants.
For seafood why not try the Crab and Lobster. Dine while enjoying the breath-taking costal views of this family-owned restaurant, which prides itself on its menu of locally-sourced fresh seafood. There is level access throughout the restaurant and wheelchair-accessible facilities. Visit www.characterinns.co.uk or tel 01983 872244.
Must sleep
There are plenty of accessible places to stay on the Isle of Wight, from self-catering cottages to bed and breakfasts and hotels.
If you're after a treat, we recommend the four-star Lakeside Park Hotel and Spa due to its fabulous facilities, a brasserie that overlooks a lake and grounds that can be enjoyed by everyone as they are DDA compliant. Some of the bedrooms have been especially equipped with wet rooms and as for the luxurious spa facilities… Visit www.lakesideparkhotel.com or tel 01983 882266.
Don't miss
Huge casts of dinosaur footprints have been found in several locations on the Isle of Wight. These can be discovered at low-tide at Compton and Brook beaches. If getting there is an issue, check out Dinosaur Isle, Britain's first purpose-built dinosaur museum and visitor attraction. Visit www.dinosaurisle.com or tel 01983 404344.
Like what you see? Another great island to visit is the Isle of Arran, off the west coast of Scotland.