Link between gut microbiota and chronic inflammatory diseases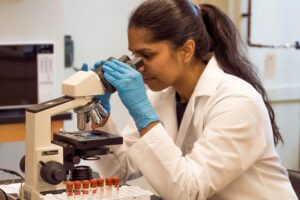 A protein naturally present in the gut acts on the microbiota and causes the formation of molecules that exacerbate the symptoms of autoimmune diseases, an international team reports in the Journal of Clinical Investigation – Insight.
The protein in question (phospholipase A2-IIA) was discovered several years ago in the fluid that surrounds the joints of people with arthritis. The protein was then detected elsewhere in the body, notably in the gut where it is produced in abundance. "It took a long time before we realized that it exhibits antibacterial activity," explains Prof Boilard who is involved in the research. "The protein interacts little with the membrane of human cells, but it has high affinity for bacterial membranes. It binds to these membranes and splits them, releasing small molecules such as fatty acids." By releasing fatty acids from the bacterial membranes, the protein produces proinflammatory fats that exacerbate inflammation and increase arthritis symptoms. Researchers have also found that the action of phospholipase affects psoriasis as well as skin cancer. "The work suggests that local inhibition of phospholipase may alleviate the inflammatory process that exacerbates certain diseases," the team says. "It also suggests that blocking the bacterial proinflammatory [fats] produced in the gut by this protein could reduce symptoms in people with systemic inflammatory diseases." PS Did you know that Arthritis Digest Magazine is labelled the best UK Arthritis blog from thousands of blogs on the web ranked by traffic, social media followers, domain authority & freshness?