Lipofilling may improve pain and function in finger arthritis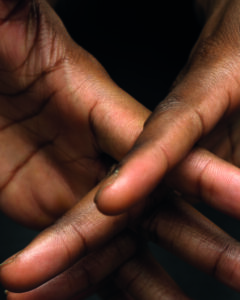 For people with painful finger osteoarthritis, the advent of a nonsurgical procedure called lipofilling could be welcome news. Lipofilling is when fat from another part of the body is transferred into arthritic joints. Research involving 18 people suggests the procedure produces lasting improvements in hand function and especially pain.
A sample of the patient's own fatty tissue was obtained by liposuction from the upper thigh or hip area. Tiny volumes of fat cells – no more than one millilitre – were injected into the arthritic finger joints. Recovery was straightforward: patients wore a splint around the treated finger and took painkillers for a week. There were no infections or other complications.
Lead author Dr Max Meyer-Marcotty comments that more research using greater number of people are needed, but "even over a long-term follow-up, the transfer of fatty tissue to arthritic fingers joints appears to provide a safe and minimally invasive alternative to conventional surgery for patients with osteoarthritis".
Click here for the original research.
PS Did you know that Arthritis Digest Magazine is labelled the best UK Arthritis blog from thousands of blogs on the web ranked by traffic, social media followers, domain authority & freshness?