Located in the warm waters of the Gulf Stream, The Isle of Arran is a must-visit island destination, explains Sheila Gilmore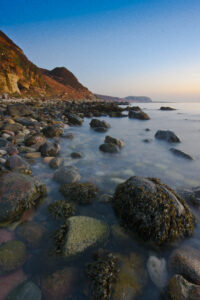 The Highland Fault Line runs through the middle of Arran, dividing the granite peaks of the north from the undulating pastures of the south, and this gives the island its title of "Scotland in Miniature".
With stunning scenery, varied wildlife and great produce, Arran is less than an hour from Scotland's west coast. All of Scotland's Big Five (red squirrel, golden eagle, red deer, otter and seal) can be found on and around the island, and dolphins, porpoise, basking shark and minke whales are not uncommon in the warm coastal waters.
Getting there
Take the ferry to the town of Brodick on Arran from Ardrossan, which can be reached by car or train from Glasgow Central Station. Cars need to be booked onto the ferry in advance, but the island is well geared up for foot passengers; buses meet most of the ferries.
For those travelling to Arran from Argyll by car, the ferry that lands at Lochranza may be more helpful as it connects with Kintyre.
Car hire is available from Brodick Pier. Taxis and private hire companies offer tours around the island, which is a convenient way to see the sights, although this is possible by bus too. Visit calmac.co.uk or tel 0800 066 5000.
What to do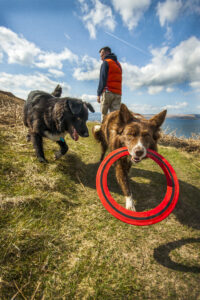 Explore the galleries, shops, pubs, restaurants and churches of the villages. Brodick, Lamlash and Whiting Bay have pavements so are better suited if accessibility is an issue.
There are some delightful flat walks along beaches, with views to the highest point of the island (Goatfell) and the Arran hills. The Fisherman's Walk in Brodick has a boardwalk that follows the coast around the bay.
The adventurous may choose to tour Arran by Mogabout, a 16-seat vehicle that takes visitors off the beaten track to some of Arran's hidden sights. Visit mogabout.com or tel 07799 555287.
Spend some time at Brodick Castle, the ancestral home of the Hamilton dynasty. Its new interactive visitor experience includes period furniture, silverware, porcelain, paintings and sporting trophies. Lift access to the upper floor is in development. Disabled parking at the rear of the castle means you can avoid the long trek from the main car park. Gardens, woodland, ponds and waterfalls make for a day's worth of activity. Visit nts.org.uk or tel 01770 302202.
Nearby, Arran Heritage Museum, tells the social history of the island, and is on one level. Its eatery – Café Rosaburn – offers a delightful selection of light meals and snacks. Visit arranmuseum.co.uk or tel 01770 302636.
Famous for its local produce, Arran has its own cheese, oatcakes, preserves, ice-cream, whisky (two distilleries), beer and gin. Arran Cheese Shop is about one mile north of Brodick and has a huge selection of Arran and Scottish cheeses, a host of other produce and a large viewing window so visitors can see into the dairy and watch the cheese makers at work. Visit arranscheeseshop.co.uk or tel 01770 302788.
Adjacent you will find Arran Aromatics, where sensational world-famous toiletries are made. Visit arran.com or tel 01563 591240.
If you fancy indulging in some of the amber nectar, Lagg Distillery opened in 2019 and is fully accessible. Overlooking the island of Ailsa Craig, the contemporary building offers a great visitor experience with information about the history of distilling on Arran, sampling and a café. Visit laggwhisky.com or tel 01770 870565.
Where to sleep
Arran has plenty of accommodation to suit all needs. Visit Arran, the island's not-for-profit destination management organisation has an accessibility audit that covers all accommodation, activities, restaurants and shops. Visit visitarran.com or tel 01770 302043.
Don't miss…
A variety of experiences are available at Arran Alpacas… from trekking to petting. Owners Tom and Emma Jessop, who recently relocated to Arran from the mainland, also offer glamorous camping at Balmichael Glamping. Visit arranalpacas.co.uk or tel 01770 465095.
Looking for a UK spa that includes Shiatsu? Check our our round-up here.