Long-term pain medications may not work in knee osteoarthritis says evidence review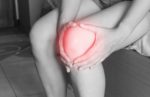 A large review of the evidence calls into question whether current long-term pain medication actually works for people with knee osteoarthritis. Publishing their findings in the Journal of the American Medical Association, the experts involved say that large clinical trials are needed to resolve the uncertainty.
A total of 33 drug interventions lasting for at least 12 months that included over 22,000 people with knee arthritis (aged 55–79 years) from 47 trials were reviewed.
Medications that were reviewed included painkillers, antioxidants, bone-acting agents (bisphosphonates and strontium ranelate), nonsteroidal anti-inflammatory drugs, intra-articular injection medications (hyaluronic acid and corticosteroids), symptomatic slow-acting drugs in osteoarthritis (glucosamine and chondroitin sulfate) and putative disease-modifying agents (cindunistat and sprifermin).
Associations with decreases in pain were only found for the nonsteroidal anti-inflammatory drug celecoxib and the symptomatic slow-acting drug in osteoarthritis glucosamine sulfate, but there was large uncertainty for all estimates compared to placebo.
Associations with improvement in joint space narrowing were found for glucosamine sulfate, chondroitin sulfate and strontium ranelate.
"In this systematic review and network meta-analysis of studies of patients with knee osteoarthritis and at least 12 months of follow-up, there was uncertainty around the estimates of effect size for change in pain for all comparisons with placebo," the reviewers conclude. "Larger randomised controlled trials are needed to resolve the uncertainty around efficacy of medications for knee osteoarthritis."
Click here for the original findings.
Arthritis Digest Magazine was selected by Feedspot as one of the Top 5 Arthritis Blogs on the internet in 2018.
For more in-depth features, interviews and information, subscribe to Arthritis Digest magazine, a popular title that's published six times a year. Click here for the digital version or tel 0845 643 8470 to order your had copy. You'll know what your doctor is talking about, what new drugs are in the pipeline and be up to date on helpful products.