Omega-3 and omega-6 fatty acids impact on lupus activity outlines new research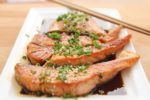 Higher dietary intake of omega-3 fatty acids is associated with reduced lupus activity and better quality of sleep, says a study in Arthritis Care & Research.
Omega-3 fatty acids (include mackerel, salmon and sardines) are generally anti-inflammatory; omega-6 fatty acids (found in oils used in fast food and processed food) tend to be pro-inflammatory.
Scientists looked at how the two types of fatty acids affect symptoms in 456 people with systemic lupus erythematosus. Fatty acid intake was assessed using questionnaires.
Key findings
Disease activity scores were higher when people ate more omega-6 foods and less omega-3 foods;
Lupus activity and sleep disturbance scores were lower with each 1g/1,000 kcal increase of omega-3 fatty acids;
When people ate a healthy balance of omega-6 and omega-3 fatty acids they had less depressive symptoms and higher quality of life;
But higher omega-3 intake alone was not associated with lower levels of depressive symptoms or higher quality of life.
The authors conclude:
"This population-based study suggests that higher dietary intake of omega-3 fatty acids, and lower omega-6:omega-3 ratios, are favorably associated with patient-reported outcomes in systemic lupus erythematosus, particularly self-reported lupus activity and sleep quality."
Click here to read the original research. 
Arthritis Digest Magazine was selected by Feedspot as one of the Top 5 Arthritis Blogs on the internet in 2018.
For more in-depth features, interviews and information, subscribe to Arthritis Digest magazine, a popular title that's published six times a year. Click here for the digital version or tel 0845 643 8470 to order your had copy. You'll know what your doctor is talking about, what new drugs are in the pipeline and be up to date on helpful products.