Omega-3 fatty acid may improve sleep and reduce depression in people with lupus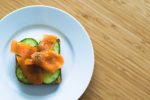 Higher intake of omega-3 fatty acids seems to improve sleep quality and decrease depressive symptoms in people with lupus, according to research presented at a recent international rheumatology conference. The study adds to the growing body of evidence highlighting the benefits that omega-3 has for people with rheumatic conditions.
Lupus is a chronic inflammatory autoimmune disease in which an unknown trigger causes the body's immune system to attack its own healthy tissues.
Omega-3 fatty acids may act as an anti-inflammatory within the diet whereas omega-6 fatty acids may act as a pro-inflammatory. Western diets are often much higher in omega-6 fatty acids, and they are suspected to contribute to chronic diseases.
The best source of omega-3 fatty acid is oily fish, but it is also in some nuts and seeds, soya products and green leafy vegetables. Foods high in omega-6 fatty acids are most vegetable oils, poultry, eggs and cereals.
The new findings
A total of 456 people with lupus completed dietary questionnaires. Analysis of the results found that increasing omega-6 to omega-3 ratios in the diet were associated with lupus disease activity (ie those who had more disease activity ate a diet higher in omega-6 and lower in omega-3).
And intake of omega-3 fatty acids improved sleep quality and decreased depressive symptoms.
"Many systemic lupus erythematosus patients suffer from symptoms such as poor sleep, fatigue and depression," said Prae Charoenwoodhipong, who led the work. "While current treatments have been wonderful at addressing pain, we haven't been able to offer therapies that really help with these other symptoms. Eating more foods that are high in omega-3 and avoiding a lot of foods that are high in omega-6 could be a low-toxicity intervention that is easily available for systemic lupus erythematosus patients to help address these symptoms."
For more in-depth features, interviews and information, subscribe to Arthritis Digest magazine, a popular title that's published six times a year. Click here for the digital version or tel 0845 643 8470 to order your had copy. You'll know what your doctor is talking about, what new drugs are in the pipeline and be up to date on helpful products.