Opt for cross trainer over running and rackets when it comes to knee arthritis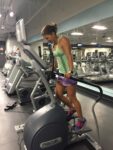 Exercising with a cross trainer may have less of a negative impact on knee arthritis than running and racket sports says an interesting study presented at an international meeting.
Knee osteoarthritis is a gradual wearing down of the protective cartilage that cushions the ends of the bones. Excess body weight is a major risk factor. Exercise offers a host of benefits for people who are overweight, but the wrong type of exercise may damage knee joints and hasten the need for knee replacement surgery.
So a team used high-powered MRI to assess the rate of degeneration of the knee joint in 415 overweight and/or obese patients (average age 59 years) who had mild to moderate osteoarthritis.
The volunteers kept detailed records of their participation in six different types of physical activity: ball sports, bicycling, jogging/running, cross trainer, racket sports and swimming.
MRI scans were done at the start of the study and over the next four years.
People who regularly did racket sports saw significant joint degeneration compared to those who went running or used the cross trainer. In fact, out of all the sports, people who used the cross trainer showed the smallest changes in structural degeneration over four years.
"In our study, progression of overall knee joint degeneration was consistently higher in overweight and/or obese patients engaging in racket sports," says lead author Dr Silvia Schirò. "We also found that workouts using a [cross] trainer were associated with reduced progression of overall knee joint and cartilage defects."
Arthritis Digest Magazine is selected by Feedspot as one of the Top 5 Arthritis Blogs in 2020.
For more in-depth features, interviews and information, subscribe to Arthritis Digest magazine, a popular title that's published six times a year. Click here for the digital version or tel 01892 354087 to order your hard copy. You'll know what your doctor is talking about, what new drugs are in the pipeline and be up to date on helpful products.