Oral complications are rare after osteoporosis treatment denosumab highlights research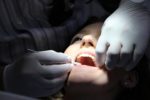 The risk of osteonecrosis of the jaw is low compared to the fracture prevention benefits of antiresorptive therapy denosumab in older women with osteoporosis, according to findings reported in The Journal of Clinical Endocrinology and Metabolism.
Researchers analysed data from a seven-year study of denosumab that involved 3,591 postmenopausal women aged 60 to 90 years who were split into groups. Some received denosumab, others had a placebo and a further group started out taking the placebo and then began taking denosumab.
During the study, over 45% of the women had at least one invasive oral procedure (tooth extraction, natural tooth loss, dental implant placement or scaling/root planning) and this was not influenced by their treatment.
Importantly, 0.68% of women who had an oral procedure during the trial went on to experience osteonecrosis of the jaw compared to 0.05% of women who did not have an oral procedure.
Dr Nelson Watts concludes:
"My hope is our study will help patients and oral care providers be better informed about the low risk of [osteonecrosis of the jaw] compared to the fracture prevention benefits of antiresorptive therapy in women with postmenopausal osteoporosis."
For more about denusumab visit The National Osteoporosis Society. 
Click here to read the original research. 
Arthritis Digest Magazine was selected by Feedspot as one of the Top 5 Arthritis Blogs on the internet in 2018.
For more in-depth features, interviews and information, subscribe to Arthritis Digest magazine, a popular title that's published six times a year. Click here for the digital version or tel 0845 643 8470 to order your had copy. You'll know what your doctor is talking about, what new drugs are in the pipeline and be up to date on helpful products.