Oral opioids no more effective in relieving pain relief than anti-inflammatory drugs, says study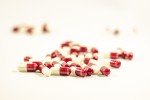 A new study which aimed to compare the effectiveness of oral non-steroidal anti-inflammatory drugs (NSAIDs) and opioids, in reducing knee osteoarthritis pain, has found there to be little difference between the two.
Dr Elena Losina, lead author of the study and professor of orthopaedic surgery at Brigham and Women's Hospital and Harvard Medical School, Boston, Massachusetts, explains, "Our hypothesis was that opioids would provide a greater amount of analgesic benefits, and we were surprised that we did not see such a difference."
The study found that oral opioids, including the less potent tramadol and the more potent hydromorphone and oxycodone, do not provide better pain relief than NSAIDs for people who suffer from knee osteoarthritis.
The findings, which were published in Osteoarthritis and Cartilage, suggest that nearly all patients with knee osteoarthritis required some form of long-term pharmaceutical pain control. Most people begin with NSAIDs or with the oral low-potency opioid tramadol. However, there has been little research into comparing the two types of drug.
For this study, the researchers identified 17 studies that met inclusion criteria, which included randomised controlled trials published in English between 1982 and 2015 that evaluated oral NSAIDs or opioids for knee osteoarthritis. The trails had to follow other criteria including being of at least eight weeks' duration; that were conducted in Western Europe, the Americas, New Zealand, or Australia; and used the Western Ontario and McMaster Universities Osteoarthritis Index (WOMAC) Pain subscale to assess baseline and follow-up pain.
The study reveals that there was no difference in effectiveness by drug class and specifically, there were no significant differences in knee osteoarthritis pain reduction from NSAIDs vs less potent opioids, for NSAIDs vs potent opioids, or for less potent opioids vs more potent opioids.
Dr Losina says, "Patients who failed NSAIDs and are considering opioids should be aware that the pain relief from opioids is likely to be no greater than the pain relief they had with NSAIDs, but may provide 'an extra chance' before considering total knee replacement."
Researchers were also surprised to find that the placebo effect might be influenced by the type of comparator being tested, such that the placebo effect appeared to be greater in trails testing opioids than in those testing NSAIDs.
"This is a very interesting observation that complements and expands on growing evidence that 'placebo' or 'intention' effects of different treatments differ by the intensity of the treatment delivery," Dr Losina explains. "For example, placebo effect of surgery is greater than placebo effect of injection, which in turn is greater than placebo effect of a pill. What we saw is some evidence that even within the same 'delivery' class — pills — the placebo or intention effect depends on anticipated potency of the analgesic regimen. If confirmed, [this] has large implications for understanding of the mechanisms of how analgesics work."
For more in-depth features, interviews and information, subscribe to Arthritis Digest magazine, a popular title that's published six times a year. Click here for the digital version or tel 0845 643 8470 to order your had copy. You'll know what your doctor is talking about, what new drugs are in the pipeline and be up to date on helpful products.