Osteopathy may help people with fibromyalgia thanks to endocannabinoid release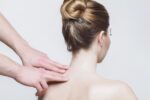 Osteopathic manipulation treatment seems to be a valid and effective instrument for a number of health issues including fibromyalgia and chronic lower back pain. And it's thanks to the release of endocannabinoids (compounds produced by our bodies that are involved with sleep, mood, appetite and memory) and how they link with receptors, a research group outlines in the Journal of Complementary & Integrative Medicine.
The group involved trawled through the evidence and found 22 relevant studies of a high enough quality to include. In all, "13 have established positive effects on cannabinoid increasing post osteopathic treatment, three articles have indicated the most targeted tissues in which the substances are most expressed, two articles indicate how physical activities produce [pain relieving] effects by increasing cannabinoid's values," the team explains.
"As a result of this review, osteopathic manipulation treatment seems to be a valid and effective instrument for the treatment of a series of pathologies such as chronic low back pain, fibromyalgia, spinal cord lesions, myofascial graft point, migraine, gastrointestinal tract dysfunctions, and depression."
To find a registered osteopath in your area visit www.osteopathy.org.uk or tel 020 7357 6655.
Click here to read the original findings.
Read our complete review about osteopathy, arthritis and fibromyalgia, 
Arthritis Digest Magazine was selected by Feedspot as one of the Top 5 Arthritis Blogs on the internet in 2019.
For more in-depth features, interviews and information, subscribe to Arthritis Digest magazine, a popular title that's published six times a year. Click here for the digital version or tel 0845 643 8470 to order your had copy. You'll know what your doctor is talking about, what new drugs are in the pipeline and be up to date on helpful products.