Pain and function of hand osteoarthritis improved by prednisolone scientists discover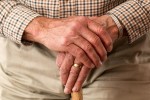 A low dose of prednisolone may substantially improve pain and decrease signs of inflammation in people with hand osteoarthritis experts report at an annual rheumatology meeting.
Prednisolone is a corticosteroid currently used to treat a wide range of health problems including allergies, blood disorders, skin diseases, infections and some cancers. It reduces inflammation and damps down the immune system, which can help in rheumatoid arthritis and other conditions when the immune system mistakenly attacks its own tissues. Prednisolone is available on prescription as tablets, a liquid to drink and by injection in hospital.
A research team was interested whether prednisolone could help people with painful hand osteoarthritis, so they found 84 people (average age 63 years) with the condition and gave half prednisolone every day for six weeks and the other half a placebo. Adverse events were mostly mild and similar between the two groups.
"Substantial improvements in pain and function, exceeding effects of currently available therapies, were seen in the trial," highlights Dr Féline Kroon, who led the study. "Therefore, a short course of 10mg of prednisolone could be considered a new treatment option for people suffering with hand osteoarthritis, especially those who experience a flare."
Arthritis Digest Magazine was selected by Feedspot as one of the Top 5 Arthritis Blogs on the internet in 2018.
For more in-depth features, interviews and information, subscribe to Arthritis Digest magazine, a popular title that's published six times a year. Click here for the digital version or tel 0845 643 8470 to order your had copy. You'll know what your doctor is talking about, what new drugs are in the pipeline and be up to date on helpful products.