People with gout have low expectations of treatment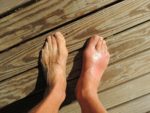 A new survey suggests that people with gout are satisfied with their treatment despite inadequate disease management. Speaking at the Annual European Congress of Rheumatology, the team that did the research across 14 European countries reports that gout is being diagnosed late, is not well controlled and is not regularly monitored.
A total of 1,100 people with gout were involved in the survey. One-quarter were not diagnosed until they had four or more flares. Over 70% had flares in the last year. Less than half were monitored for serum uric acid two or more times a year and 59% do not have regular follow-up appointments. Yet 80% of the group were satisfied with their current treatment and did not expect better management of their disease.
Furthermore, 52% of the participants had blood pressure, 41% had high cholesterol and 23% had type 2 diabetes. And 58% were on uric acid lowering therapies, 43% took painkillers, 25% were on gout treatment colchicine, 13% took non-medical pain relief and 12% were on corticosteroids.
"Our results demonstrate that, across Europe, gout has a significant impact on the lives of patients and their families," says Marc de Meulemeester, one of the research team. "Although it is easily treatable, there are significant gaps in the current management of gout. This should be a call to action to educate patients and their doctors about adequate management of gout."