Probiotics improve quality of life for people with inflammatory arthritis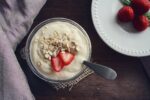 A relatively new foodie fad, probiotics are heralded as having various health benefits, especially where our gut is concerned. More research is looking at the relationship between the gut and inflammation and some believe there is a link. So experts recently analysed the research that specifically looks at the impact probiotics have on inflammatory arthritis and report their findings in Complementary Therapies in Clinical Practice.
After an extensive trawl through the evidence, 12 studies were found that were of a high enough quality to include; four involved people with spondyloarthropathies and eight focused on rheumatoid arthritis. Probiotics were taken for an average of 60 days. While a variety of different probiotics were used, Lactobacillales was the most popular.
Taking probiotics was found to:
Benefit quality of life, especially Lactobacillales-only formulations;
Reduce pain;
Have a positive impact on the inflammatory marker C-reactive protein, particularly in people with rheumatoid arthritis and from combined Bifidobacteriales and Lactobacillales formulations;
Have no negative side effects.
"This review indicates there may be differential benefits to combined formulations of Bifidobacteriales and Lactobacillales compared to purely Lactobacillales formulations, with respect to reducing pain, lowering C-reactive protein and improving quality of life," the experts conclude. "It also suggests variable benefits associated with the type of inflammatory arthritis."
Click here to read the original research.
Interested in arthritis and diet? We've written lots on this, read more here.
Arthritis Digest Magazine is selected by Feedspot as one of the Top 5 Arthritis Blogs in 2020.
For more in-depth features, interviews and information, subscribe to Arthritis Digest magazine, a popular title that's published six times a year. Click here for the digital version or tel 0845 643 8470 to order your had copy. You'll know what your doctor is talking about, what new drugs are in the pipeline and be up to date on helpful products.