Protein discovery could lead to new fracture treatments says new research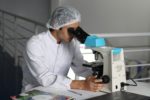 Older people seem to have an abundance of a protein called apolipoprotein (ApoE) that interferes with bone healing after fracture, according to a paper published in JCI Insight. The finding may explain why people's bones take longer to heal as they age. Tests by experts revealed that people aged 75–85 years old have twice as much ApoE in their blood as 35–45 year olds. The same was true for mice. They also found that ApoE stops the bone healing process from working effectively.
"When we decreased the protein level, aging was reversed," explains Dr Gurpreet Baht who is involved in the work. "Not only was there more bone and healing happened faster, but it was also structurally more sound."
Previous research has shown that ApoE is linked to Alzheimer's disease and atherosclerosis (when fatty plaques narrow the arteries). If there is too little ApoE, fat builds up and can cause cardiovascular issues.
"You have to be careful," Dr Baht says. "If a patient were to permanently decrease circulating ApoE levels, and then have a fatty meal, that fat might not get processed properly and could deposit in blood vessels.
"As a treatment to improve bone healing, the patient could take a pill or an injection to lower ApoE for a short time rather than permanently, and there would be dietary restrictions during treatment."
Arthritis Digest Magazine was selected by Feedspot as one of the Top 5 Arthritis Blogs on the internet in 2018.
For more in-depth features, interviews and information, subscribe to Arthritis Digest magazine, a popular title that's published six times a year. Click here for the digital version or tel 0845 643 8470 to order your had copy. You'll know what your doctor is talking about, what new drugs are in the pipeline and be up to date on helpful products.