Pulsed radiofrequency may relieve acute back pain and sciatica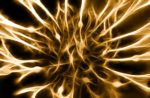 A minimally invasive procedure when pulses of energy from a probe are applied directly to nerve roots near the spine seems to be safe and effective in people with acute lower back pain that has not responded to conservative treatment.
Lumbar disk herniation affects the disks that act as cushions between the vertebrae of the lower spine. Herniation occurs where the jelly-like material in the centre of the disk bulges through a tear in the disk's tough exterior layer and puts pressure on the roots of the nerves. Herniated disks are often the source of pain that radiates downward from the lower back into the leg.
Usual treatments for herniated disks range from over-the-counter pain medications, injections of corticosteroids directly into the affected area of the spine, and surgery.
An alternative technique, CT-guided pulsed radiofrequency applies energy through an electrode under CT guidance to the portion of the nerve responsible for sending pain signals.
"Pulsed radiofrequency creates a nerve modulation, significantly reducing inflammation and its associated symptoms," explained Prof Alessandro Napoli at the annual meeting of the Radiological Society of North America.
The new approach has been studied in 128 people with back pain from lumbar disk herniation that had not responded to prolonged usual treatment. CT-guided pulsed radiofrequency was delivered directly under CT guidance to the root of the nerve and applied for 10 minutes. For comparison, a group of 120 people received one to three sessions of CT-guided steroid injection on the same anatomical target with no pulsed radiofrequency. A year later the data showed that the CT-guided pulsed radiofrequency was superior to the injection-only strategy. Patients who received pulsed radiofrequency had:
Greater overall improvement in pain and disability scores;
Faster relief of leg pain;
Quicker rate of perceived recovery.
"Given our study results, we offer pulsed radiofrequency to patients with herniated disk and sciatic nerve compression whose symptoms do not benefit from conservative therapy," says Dr Napoli. "Of the different therapies available, pulsed radiofrequency is among the least invasive. Treatment lasts 10 minutes, and one session was enough in a large number of treated patients."
Arthritis Digest Magazine was selected by Feedspot as one of the Top 5 Arthritis Blogs on the internet in 2018.
For more in-depth features, interviews and information, subscribe to Arthritis Digest magazine, a popular title that's published six times a year. Click here for the digital version or tel 0845 643 8470 to order your had copy. You'll know what your doctor is talking about, what new drugs are in the pipeline and be up to date on helpful products.