Red meat could be linked to development of ankylosing spondylitis says new research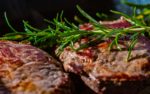 Natural antigens in red meat may play a role in ankylosing spondylitis, experts report in a leading academic journal.
We know that food allergies can alter the composition of the gut microbiome, which may increase the risk of conditions such as ankylosing spondylitis.
So a team set out to see if particular allergens affected a group of 75 people with ankylosing spondylitis, comparing them to 78 healthy people. The allergens under the spotlight were rice, egg, mushroom, milk, pork, chicken, beef, crab, codfish, corn, soybean, tomato, shrimp and wheat.
People with ankylosing spondylitis had much higher blood levels of beef-, crab-, and pork-specific antibodies than the group without ankylosing spondylitis. And the blood levels of pork-specific antibodies were correlated with a marker of inflammation (C-reactive protein). The authors conclude:
"These results suggest that… the predominant natural antigen in mammalian red meat, might play a potential role in the pathogenesis of ankylosing spondylitis, and therefore, ankylosing spondylitis patients should exclude such allergenic foods, including beef, crab and pork, from their daily diet."
Click here to read the original research.
Arthritis Digest Magazine was selected by Feedspot as one of the Top 5 Arthritis Blogs on the internet in 2018.
For more in-depth features, interviews and information, subscribe to Arthritis Digest magazine, a popular title that's published six times a year. Click here for the digital version or tel 0845 643 8470 to order your had copy. You'll know what your doctor is talking about, what new drugs are in the pipeline and be up to date on helpful products.