Resistance training is vital for older adults – experts make statement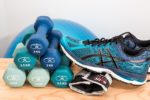 Building resistance training into the daily routine of older adults would improve health and longevity, according to a statement in the Journal of Strength and Conditioning Research.
Aging inevitably takes a toll on the body, which is why if you poll people on if they want to live to 100 years old, few will respond with a "yes".
"Aging, even in the absence of chronic disease, is associated with a variety of biological changes that can contribute to decreases in skeletal muscle mass, strength and function," says Dr Maren Fragala, lead author. "Such losses decrease physiologic resilience and increase vulnerability to catastrophic events."
But research shows that resistance training is a powerful care model to combat loss of muscle strength and mass in the aging population. And the benefits of participating in resistance training as an older adult outweigh the risks.
"We demonstrate in this position statement just how much resistance training can positively affect physical functioning, mobility, independence, chronic disease management, psychological wellbeing, quality of life and healthy life expectancy," comments senior author, Dr Mark Peterson. "We also provide recommendations for how to optimize resistance training programs to ensure safety and effectiveness."
Arthritis Digest Magazine was selected by Feedspot as one of the Top 5 Arthritis Blogs on the internet in 2018.
For more in-depth features, interviews and information, subscribe to Arthritis Digest magazine, a popular title that's published six times a year. Click here for the digital version or tel 0845 643 8470 to order your had copy. You'll know what your doctor is talking about, what new drugs are in the pipeline and be up to date on helpful products.