Rheumatoid arthritis curtailed my career working with children but enabled me to support and make positive change to the lives of others, says Donna Saunders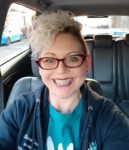 Funny how life takes a different route to how you'd planned. Growing up, my dream was to work with children but my career as a nursery school nurse was short-lived due to rheumatoid arthritis.
Being diagnosed with a long-term painful condition at the age of 21 years old was devastating. The RA became aggressive and I became more dependent upon my husband. Our greatest achievement is surviving the challenge of pregnancy, childbirth and raising children, whilst living with RA.
I retired from my job in a nursery school to use my strength and energy to raise our children. Like many women, my identity somehow got lost along the way and as they grew up I wanted something more. My children will always need me, my family will always be my priority but as they grew older, they became more independent.
There was no way I could return to nursery nursing due to the fatigue, joint damage and unpredictability of RA but I desperately wanted to do something.
Life changer
As a member of the National Rheumatoid Arthritis Society I was invited to an event, where, after a chat with staff, my volunteering role began and my confidence started to grow. From there I started my local NRAS Group, which I have now been running for over 10 years. Some people have never spoken to anyone else living with the same disease, so to get a group in a room where they can share experiences and tips is amazing. I have seen attendees blossom and grow in confidence as they learn to live with RA.
I have organised many social and fundraising events for the NRAS. There are times when it is challenging but I think about all the people who have supported me, the money we've raised, the friendships that have been formed and I know it is worth it.
Unfortunately, there is still a lot of ignorance surrounding invisible illnesses. I want to do what I can to change this so have been interviewed on radio programmes, for magazines and the local newspaper. I have enjoyed presenting about life with RA to pharmaceutical companies, student doctors, nurses, physiotherapists and different women's groups.
Being involved in the "behind the smile" campaign was wonderful and it fills me with pride that I played a small part in the making of it.
I was lucky enough to travel to Iceland to represent UK RA patients at a rheumatology conference. I cannot explain how nervous I felt! Yet there was no need to worry. I was made to feel most welcome, met some inspirational people and made lifetime memories.
I'm passionate about educating people about RA and how it affects lives. Those who understand their disease empower themselves and improve their quality of life. If I can play a small part in people achieving this, I will volunteer for NRAS for as long as my health allows.
Don't get me wrong, I still need my family, we are a team, we love and support each other but we all have our own identities and mine isn't only "mum" now. I'm proud to also say "I'm a volunteer".
I am no longer dependant on others, I am my own person. My volunteer work for the NRAS has helped me to recognise that I have RA, it does not have me.
To find out more about volunteering opportunities with the NRAS contact volunteers@nras.org.uk
Click here if you would like to submit your story to Arthritis Digest.