Rheumatoid arthritis drug methotrexate reduces joint damage progression in hand osteoarthritis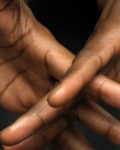 Methotrexate appears to lower the progression of joint damage of erosive hand osteoarthritis and may even facilitate bone remodelling according to a small study presented at an international conference.
Osteoarthritis is a common joint disease that mainly affects middle age to elderly people. It is a disease of the entire joint involving cartilage, joint lining, ligaments and bone. Characterised by breakdown of cartilage (the tissue that cushions the ends of the bones between joints), bony changes of the joints, deterioration of tendons and ligaments, and inflammation of the joint lining, there are few treatments for the disease.
A total of 64 people with erosive hand osteoarthritis were split into two groups so researchers could evaluate the effect of methotrexate (a drug commonly used in rheumatoid arthritis) in hand osteoarthritis.
Half took methotrexate once a week and the other half took a placebo. After three months and 12 months there was no difference in pain scores between the groups. Likewise, function was similar between the groups. But methotrexate "did significantly reduce joint damage progression compared to placebo and seems to facilitate bone remodelling".
"Our results show a structural effect of the treatment that facilitates bone remodelling and seems to slow the erosive structural progression of digital osteoarthritis with a seemingly more pronounced effect in patients with early lesions," says Prof Christian Roux who led the work. "The main complaint for people is the deformity linked to structural evolution in this disease. Our study's results should encourage new studies to be conducted."
Arthritis Digest Magazine was selected by Feedspot as one of the Top 5 Arthritis Blogs on the internet in 2018.
For more in-depth features, interviews and information, subscribe to Arthritis Digest magazine, a popular title that's published six times a year. Click here for the digital version or tel 0845 643 8470 to order your had copy. You'll know what your doctor is talking about, what new drugs are in the pipeline and be up to date on helpful products.