Soy protein may improve bone health says new study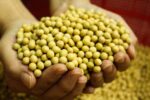 Soy protein seems to have positive effects on bone metabolism and body composition, experts highlight in Food & Function.
We know that high cholesterol is associated with heart health and bone loss. And osteoporosis contributes to increased morbidity and mortality and is influenced by diet.
Made from soybean meal that has been dehulled and defatted, soybean protein comes in the form of soy flour, concentrates and in a powder. Soy protein has been shown to reduce cholesterol levels, and its isoflavones (plant-based chemicals that act like a weaker form of oestrogen) may improve bone health.
So a team of experts set out to see what the effects of soy protein were on bone metabolism and inflammation and cholesterol levels. A total of 90 men and women aged 27–87 years old were split into groups. Half ate 40g soy protein every day for three months and the other half ate 40g of casein (a protein found in cows' milk). Both soy and casein consumption:
Reduced levels of an enzyme that indicates osteoporosis;
Decreased levels of another marker of osteoporosis and potentially autoimmune disease;
Increased serum insulin-like growth factor-I (a measure of bone growth). Soy protein increased this more than casein protein;
Did not affect cholesterol levels.
The team concludes that their results "demonstrate that daily supplementation of soy and casein protein may have positive effects on indices of bone metabolism and body composition, with soy protein being more effective at increasing IGF-1."
Click here to read the original research. 
Arthritis Digest Magazine was selected by Feedspot as one of the Top 5 Arthritis Blogs on the internet in 2019.
For more in-depth features, interviews and information, subscribe to Arthritis Digest magazine, a popular title that's published six times a year. Click here for the digital version or tel 0845 643 8470 to order your had copy. You'll know what your doctor is talking about, what new drugs are in the pipeline and be up to date on helpful products.