Spice blend may help lower inflammation – latest findings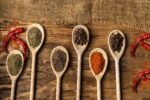 Adding spices to a meal can improve more than just taste as a small study shows spice improves aspects of health by reducing inflammation.
A total of 12 overweight or obese men aged 40–65 years old ate a meal high in fat and carbohydrates with six grams of a spice blend. Afterwards, blood tests showed they had reduced inflammatory cytokines compared to when they ate a meal with less or no spices.
The spice blend consisted of a blend of basil, bay leaf, black pepper, cinnamon, coriander, cumin, ginger, oregano, parsley, red pepper, rosemary, thyme and turmeric.
The researchers can't be sure which spice or spices contribute to the effect, or the precise mechanism in which the effect is created, but they think the spices have anti-inflammatory properties that help offset inflammation caused by the high-carb and high-fat meal.
"If spices are palatable to you, they might be a way to make a high-fat or high-carb meal more healthful," says Dr Connie Rogers in the Journal of Nutrition. "We can't say from this study if it was one spice in particular, but this specific blend seemed to be beneficial. Ultimately the gold standard would be to get people eating more healthfully and to lose weight and exercise, but those behavioral changes are difficult and take time."
Click here to read the original research.
Interested? Read more about food and arthritis, fibromyalgia and bone health here.
Arthritis Digest Magazine was selected by Feedspot as one of the Top 5 Arthritis Blogs on the internet in 2019.
For more in-depth features, interviews and information, subscribe to Arthritis Digest magazine, a popular title that's published six times a year. Click here for the digital version or tel 0845 643 8470 to order your had copy. You'll know what your doctor is talking about, what new drugs are in the pipeline and be up to date on helpful products.