Sudden weather changes may trigger lupus flares – recent findings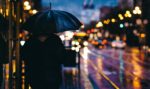 Weather has once again been linked to lupus flares, this time in research from the US presented at an international rheumatology conference.
"Our interest in this topic started in 2012, when we looked at the typical relationship between lupus activity and seasons," says Dr George Stojan, one of the team involved in the research. "We found that photosensitive rashes were more common between April and September, that arthritis was more common between May and October, that renal flares were significantly less common during summers.
"We hypothesized that atmospheric factors like ozone concentration, temperature, wind, humidity, barometric pressure, as well as environmental factors – such as smoke particulate matter pollution – … was predictive of an organ-specific flare."
So the research team looked back at what the weather had been doing when 1,628 people with lupus visited their clinic over an 18-year period.
Key findings
Rash, serositis, hematologic and joint flares were associated with increase in temperature;
The hotter it was, the less likely people were to have a renal flare;
Residual wind was associated with joint, neurologic, hematologic and pulmonary flares;
Humidity was associated with joint and serositis flares;
Changes in barometric pressure had no significant associations with lupus activity.
"We can speculate that the seasonality that we previously described could be mediated by these atmospheric or environmental factors, but more studies are necessary for this," Dr Stojan says. "If proven, this may have wide-ranging epidemiological and clinical consequences in the future."
Arthritis Digest Magazine was selected by Feedspot as one of the Top 5 Arthritis Blogs on the internet in 2018.
For more in-depth features, interviews and information, subscribe to Arthritis Digest magazine, a popular title that's published six times a year. Click here for the digital version or tel 0845 643 8470 to order your had copy. You'll know what your doctor is talking about, what new drugs are in the pipeline and be up to date on helpful products.