Sustained Release Glucosamine: could the newest way of taking glucosamine be part of your future?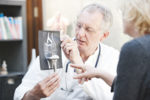 A question and answer session with the company that has launched the UK's only sustained release glucosamine has revealed the following:
What are Flexable Sustained Release Glucosamine Supplements?
Flexable Sustained Release
glucosamine tablets are expertly
formulated using an internationally
patented 'polymer membrane
permeation controlled' technology
that allows glucosamine to be
released in your body over a
longer period of time.
What are the benefits of taking Sustained Release glucosamine tablets vs normal glucosamine tablets?
Traditional instant release glucosamine tablets dissolve and are released in the upper intestine within an hour of consumption. But Flexable Sustained Release glucosamine tablets are released throughout the gastrointestinal tract, which maximises absorption. Sustained Release glucosamine tablets are designed to release glucosamine over time with the goal of continuous cartilage and tissue repair, targeting the damage makes it gentle on the stomach with reduced gastric irritation.
Are there any alternative ways of taking glucosamine?
Yes! Flexable Glucosamine Massage Cream is an advanced comprehensive massage cream for joints and muscles, combining the beneficial properties of glucosamine, chondroitin and MSM with natural extracts and oils including: coconut oil, aloe vera leaf juice, boswellia, licorice, vitamin E and ilex.
Flexable Glucosamine Massage Cream is odour-free, burn-free, paraben-free and delightfully moisturising.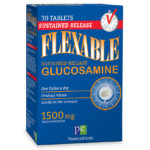 SPECIAL OFFER
Buy a month supply of Flexable Sustained Release Glucosamine Tablets for £15.99, and receive Flexable Glucosamine Massage Cream (2oz) FREE (worth £8.99). Tel 020 8457 4200 or visit www.riteflexhealth.com/arthritisdigest.
NB This is a sponsored advertorial