Tech news: app may help reduce osteoarthritis pain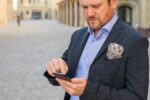 A new mobile phone app may improve some symptoms for people with arthritis, says research published in PLOS ONE.
A total of 500 slightly overweight people with osteoarthritis of the hip or the knee aged around 60 years old completed a health form every three months. They received new exercises and lessons on osteoarthritis every day for six months.
The exercises were designed to strengthen the muscles in the affected area; two to three exercises were done each day for five to 10 minutes. Each week the patients reported their pain levels in the app, and tested their physical ability every two weeks.
"After six months, the group averaged almost half the amount of pain, and their physical mobility had improved by an average of 43%," says Håkan Nero, who is involved in the research. "The results were equally good for those who continued the program for up to a year. Normally, hip osteoarthritis is more difficult to treat, but in our study we saw no difference between knee and hip, and the same applied to gender and age.
"We expected patients to see an improvement, but these results exceeded our expectations. This demonstrates that using digital tools when treating chronic illnesses such as osteoarthritis can work very well.
"Some patients with osteoarthritis may prefer conventional therapy at a clinic, but the results of the study show that it is possible to use digital technology as well. A mobile app is easily accessible regardless of where you are in the world."
Arthritis Digest Magazine was selected by Feedspot as one of the Top 5 Arthritis Blogs on the internet in 2019.
For more in-depth features, interviews and information, subscribe to Arthritis Digest magazine, a popular title that's published six times a year. Click here for the digital version or tel 0845 643 8470 to order your had copy. You'll know what your doctor is talking about, what new drugs are in the pipeline and be up to date on helpful products.