TENS is effective for reducing pain in people with fibromyalgia says new evidence review

The pain relieving effects of transcutaneous electrical nerve stimulation (TENS) have come under scrutiny again, this time in people with fibromyalgia.
Publishing their findings in a leading academic journal from Spain, the team looked at if TENS has a pain relieving effect greater than placebo or other treatments in people with fibromyalgia.
Their analysis of the data suggests that treatment with TENS is effective for reducing pain in people with fibromyalgia.
"In addition, the inclusion of TENS in therapeutic exercise programs seems to have a greater effect than practicing therapeutic exercise in isolation," the team highlights.
What is TENS?
Transcutaneous electrical nerve stimulation is a method of pain relief involving the use of a mild electrical current.
A TENS machine is a small, battery-operated device that has leads connected to sticky pads called electrodes. You attach the pads directly to your skin. When the machine is switched on, small electrical impulses are delivered to the affected area of your body, which you feel as a tingling sensation.
The electrical impulses can reduce the pain signals going to the spinal cord and brain, which may help relieve pain and relax muscles. They may also stimulate the production of endorphins, which are the body's natural painkillers.
Source: NHS UK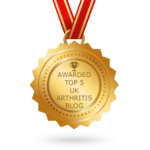 Arthritis Digest Magazine was selected by Feedspot as one of the Top 5 Arthritis Blogs on the internet in 2018.
For more in-depth features, interviews and information, subscribe to Arthritis Digest magazine, a popular title that's published six times a year. Click here for the digital version or tel 0845 643 8470 to order your had copy. You'll know what your doctor is talking about, what new drugs are in the pipeline and be up to date on helpful products.