TENS seems to lower fibromyalgia pain experts discover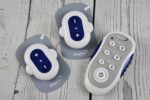 Transcutaneous electrical nerve stimulation – TENS – during activity improves movement‐evoked pain and other patient‐reported outcomes in women with fibromyalgia, researchers outline in Arthritis & Rheumatology.
TENS is a method of pain relief using of a mild electrical current. A TENS machine is a small, battery-operated device that has leads connected to sticky pads called electrodes. The pads are attached directly to the skin. When the machine is switched on, small electrical impulses are delivered to the affected area of the body, which is felt as a tingling sensation.
The electrical impulses reduce the pain signals going to the brain, which may help relieve pain and relax muscles. Plus they may stimulate the production of endorphins, the body's natural painkillers.
Fibromyalgia is characterised by pain and fatigue, especially during physical activity. There is a need to find more effective treatments for the debilitating condition. So a team set out to evaluate if using TENS during activity would improve movement‐evoked pain and other patient‐reported outcomes in women with fibromyalgia.
Volunteers were randomly split to receive active‐TENS (103 women), placebo‐TENS (99 women) or no‐TENS (99 women) and instructed to use it at home for two hours a day during activity for four weeks.
Findings
After four weeks, the active‐TENS group reported a greater reduction in movement‐evoked pain and fatigue than the other two groups. There were no TENS‐related serious adverse events and less than 5% of volunteers experienced minor adverse events from TENS.
The authors conclude that "among women with fibromyalgia and stable medication, four weeks of active‐TENS use compared with placebo‐TENS or no‐TENS resulted in a significant improvement in movement‐evoked pain and other clinical outcomes."
Remember that you shouldn't use a TENS machine if you have an electrical or metal implant in your body, are pregnant, have epilepsy, cancer, diabetes or a heart problem.
Arthritis Digest Magazine was selected by Feedspot as one of the Top 5 Arthritis Blogs on the internet in 2019.
For more in-depth features, interviews and information, subscribe to Arthritis Digest magazine, a popular title that's published six times a year. Click here for the digital version or tel 0845 643 8470 to order your had copy. You'll know what your doctor is talking about, what new drugs are in the pipeline and be up to date on helpful products.