Tommy O'Donnell, the Irish rugby player on a mission to help children with arthritis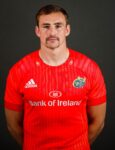 Irish sporting star, Tommy O'Donnell, is as determined off the rugby field as he is in the midst of the ruck. Patron of the Irish Children's Arthritis Network (iCAN) for five years, Tommy successfully uses his platform to help the charity spread awareness of juvenile arthritis, create better support and reduce waiting times for essential services.
It all began when a friend suggested that Wendy Costello, chairperson and founder of iCAN, make contact with the Irish and Munster Rugby team player to see if he might be interested in getting involved. "Wendy has a lot of energy behind her and made a big impression on me," Tommy explains. "We're from the same town and I liked the idea of being able to make a significant difference to a local project." Wendy founded iCAN after her daughter was diagnosed with juvenile arthritis aged three years old.
"When I first joined iCAN there was only one specialist in the area, so children had to wait a long time for appointments," Tommy remembers. "Within five years we have created a network for parents and carers of children with arthritis, who support each other. As awareness of the condition has spread and access to treatment has improved. Eleven new posts are due to be filled by the end of the year and waiting times should then reduce."
There is still more to do though. "There is lots on the agenda and I'm delighted that James Lowe from New Zealand who now plays for Leinster Rugby (and has rheumatoid arthritis) is getting involved too," says Tommy. "We have a busy schedule of family days and events ahead of us and Wendy always has all sorts of exciting ideas in the pipeline."
Health issues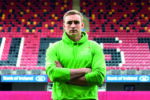 As a rugby player, Tommy is no stranger to pain himself. Just a few years ago his hip was dislocated in a World Cup warm up game after two players landed on his back. "Luckily for me there was no lasting damage and I recovered quickly in under eight weeks but the surgeon advised that I'm likely to experience arthritis in the joint in the future," he reveals. "The rehabilitation process can be frustrating but we're well supported by healthcare professionals."
Tommy and his team are lucky to have guidance from nutritionist Emma Tester, who creates nutritional plans around what the club's coaches are planning to do on a week-to-week basis. Emma ensures that players are eating and recovering well and works out which vitamins and supplements could be of benefit.
"I know that to stay in good health I need to eat foods that reduce inflammation and avoid others that increase inflammation," Tommy says. "I do allow myself to eat what I want too, however, as life's for living after all. "Some supplements make a big difference to me. For example, a cherry extract after games improves my recovery time. Turmeric and curcumin reduce my levels of inflammation."
Self-management
A holistic approach to self-management of pain and injury is the name of the game for Tommy. "I try to avoid strong painkillers as much as possible. More than anything, they leave me feeling sluggish and less adept on the rugby field," he explains. Tommy checks in with the team physiotherapist on a regular basis and religiously adheres to the prescribed exercises. "Stretching before and after definitely affects my levels of pain and injury," he outlines. "Massage too has a positive impact, but I find it harder to find the time since I married and started a family."
Having his own two young children has given Tommy a deeper perspective of what it must be like for parents and carers of children with arthritis. "As a parent I understand how helpless it can feel to see your child in pain," he says. "We must continue to increase access to support and treatment facilities for the families that so badly need it."
Click here for more information about the Irish Children's Arthritis Network.
Interview was first published in 2020.
Click here for more celebrity interviews.
PS Did you know that Arthritis Digest Magazine is labelled the best UK Arthritis blog from thousands of blogs on the web ranked by traffic, social media followers, domain authority & freshness?