Turmeric extract eases knee pain in trial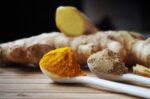 An extract made from turmeric recently performed better than a sham pill for the treatment of osteoarthritis-related knee pain, experts from Australia report.
"The current pharmacological options for the treatment of [osteoarthritis] are only moderately effective and are contraindicated in patients with comorbidities and are often associated with adverse events," highlights Dr Benny Antony, one of the research team.
Previous studies have shown that various types of curcumin (the active ingredient in turmeric) effectively and safely treat osteoarthritis. But the new work is the first to ascertain how well curcumin reduces symptoms and standard measures of osteoarthritis.
New work
A total of 70 people aged over 39 years old with osteoarthritis knee pain were split into groups. Half received two capsules of curcumin every day and the other half were given a sham treatment.
People taking curcumin had reduced levels of knee pain; over 10% of the group stopped or reduced the number of painkillers they were taking.
Whilst the results are encouraging, the difference in other measures – effusion-synovitis or cartilage composition – did not differ between the groups.
There is a need for more research in the area says Dr Anthony, who comments:
"We are aiming to conduct a larger multicenter clinical trial with a longer duration of follow-up to demonstrate the potential of Curcuma longa extract as a disease-modifying treatment for knee osteoarthritis."
Interested in arthritis and diet? So are we! Click here for more research news.
Arthritis Digest Magazine is selected by Feedspot as one of the Top 5 Arthritis Blogs in 2020.
For more in-depth features, interviews and information, subscribe to Arthritis Digest magazine, a popular title that's published six times a year. Click here for the digital version or tel 01892 354087 to order your hard copy. You'll know what your doctor is talking about, what new drugs are in the pipeline and be up to date on helpful products.