Vitamin D deficiency linked to higher disease activity in childhood arthritis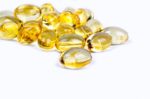 Vitamin D is back under the spotlight, this time because its deficiency has been linked to higher disease activity in juvenile idiopathic arthritis and inflammation of the middle layer of the eye in research in Arthritis Research and Therapy.
A team evaluated vitamin D status of 360 children aged under 17 years old with juvenile idiopathic arthritis to determine if the level is associated with disease activity.
Two blood samples were taken over a two-year period. Nearly half of the volunteers were deficient in vitamin D in their first blood test, and one-quarter were deficient in both blood tests. Interestingly, vitamin D deficiency was even higher in the healthy control group.
The lower the level of vitamin D, the higher the level of disease activity and the more likely the volunteers were to be affected by uveitis.
"In this study, [vitamin D] deficiency was common and associated with higher disease activity and risk of developing juvenile idiopathic arthritis-associated uveitis," the team concludes.
The next step is to see if correcting the deficiency helps reduce symptoms.
More on vitamin D
Vitamin D can be taken as a supplement but its most effective source is the body, which creates it from direct sunlight on the skin when outdoors. Vitamin D is also found in a small number of foods such as:
Oily fish (salmon, sardines, herring and mackerel)
Red meat
Egg yolks
Fortified foods (breakfast cereals and fat spreads)
Click here to read the original research. 
Arthritis Digest Magazine was selected by Feedspot as one of the Top 5 Arthritis Blogs on the internet in 2018.
For more in-depth features, interviews and information, subscribe to Arthritis Digest magazine, a popular title that's published six times a year. Click here for the digital version or tel 0845 643 8470 to order your had copy. You'll know what your doctor is talking about, what new drugs are in the pipeline and be up to date on helpful products.