Walking towards healthier knees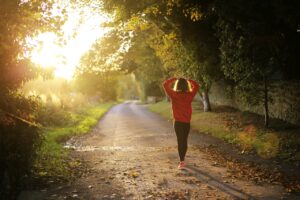 Walking for exercise can reduce new frequent knee pain in people aged 50 years and older who have knee osteoarthritis, says a new study. Furthermore, walking for exercise may be an effective treatment to slow the damage that occurs within the joint.
"Until this finding, there has been a lack of credible treatments that provide benefit for both limiting damage and pain in osteoarthritis," said Dr Grace Hsiao-Wei Lo, lead author of the work published in Arthritis & Rheumatology.
Dr Lo and her colleagues looked at data from people who reported the amount of time and frequency they walked for exercise. The participants were divided into groups, those who walked for exercise and those who didn't. People who reported walking for exercise had 40% decreased odds of new frequent knee pain compared to non-walkers.
"These findings are particularly useful for people who have radiographic evidence of osteoarthritis but don't have pain every day in their knees," explains Dr Lo. "This study supports the possibility that walking for exercise can help to prevent the onset of daily knee pain. It might also slow down the worsening of damage inside the joint from osteoarthritis."
For more about exercise and arthritis click here.
PS Did you know that Arthritis Digest Magazine is labelled the best UK Arthritis blog from thousands of blogs on the web ranked by traffic, social media followers, domain authority & freshness?