Warming up on colder days (and nights)
Stave off the chill this winter with our recommended cosy feel-good items
Toasty toes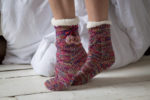 Indulge in a pair of chunky cable knit slipper socks that feature a super-soft, warm sherpa lining and a slip-resistant tread.
Available for £16 from Totes, visit www.totes.co.uk or tel 01277 636802.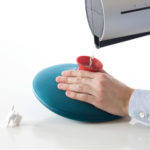 Snug as a bug
The Pill hot water bottle is reminiscent of round metal hot water bags from times gone by, only now the surface is made of a heat-resistant plastic that feels good to handle.
Designed to be filled safely using a removable funnel, a screw cap closes the bottle with ease and the funnel is simply pressed back into the bottle and disappears inside.
Available for £34 (plus £6.00 p&p) from Connox, visit www.connox.co.uk or tel 020 349 901 94.
Comfort food
With an easy to open lid, the Thermos Soft Touch Food Flask, keeps food and drinks hot for five hours. Light to take out and about, the wide mouth is easy to fill, eat from and clean. Capacity is 290ml and it is dishwasher save.
Available from The Genuine Thermos Brand for £18.95 including delivery, visit www.thermosonline.co.uk or tel 01924 666801.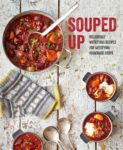 Souped Up
Over 60 recipes for nourishing soups from Potato and Roasted Red Onion Soup to Lobster Bisque, you'll find a soup to feed both body and soul in Souped Up: Deliciously Nutritious Recipes for Satisfying Homemade Soups.
Whether you're looking for a way to use seasonal produce, increase your daily intake of vegetables or crave the comfort that only a warming bowlful of soup can bring, this book is for you.
Published by Ryland, Peters & Small Ltd, Souped Up: Deliciously Nutritious Recipes for Satisfying Homemade Soups is £9.99 from www.waterstones.com.