Within a few weeks of starting Reiki, Andy Chrysostomou's spondylosis symptoms vastly improved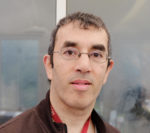 I was diagnosed with severe spondylosis of the spine in 1997, a form of chronic arthritis that was causing narrowing of the vertebrae at the top and bottom of my spine, putting pressure on the nerves causing extreme pain and greatly reduced mobility. My doctor told me he couldn't believe how bad it was in someone as young as me and there was nothing he could do for me. I was told my condition was degenerative and would worsen with time… eventually I would be crippled. That was actually really scary at the time, particularly as I was sporty, kickboxing and weight training every day.
I asked for physiotherapy but my doctor told me my condition was too severe. After I persisted he prescribed a series of 10 treatments. He was correct, it did not help. I was prescribed anti-inflammatory painkillers to manage the pain. My doctor told me that I would need to take painkillers for the rest of my life to manage the pain and I must change my lifestyle, no training, carrying shopping bags, excessive walking. I had to ensure I put the minimum stress on my spine. There was nothing else he could offer me.
Discovering Reiki
Three years later some friends and I saw a presentation by a Reiki teacher. My friend suggested we sign up for the course. I held little hope that it would help my spine problem but after paying the deposit I felt I had to go.
Straight away, my pain reduced and my mobility improved. I was able to sleep without pain for the first time in years! I used Reiki to treat myself every day and still do. Within a few weeks I was no longer in any pain and was able to live a normal life. I even started training again and now do weights and martial arts.
By learning Reiki I have been able to treat myself, which allows me to live without pain and to be able to do the things I could do before my spondylosis. I have treated other people with arthritis and it has helped them, but that does not mean it will help everyone. The only way to know is to have one treatment and see what the outcome is. If there is an improvement after one treatment, I believe continued Reiki treatments will help, whether from a therapist or by taking a suitable Reiki course and self-treating.
Andy Chrysostomou is a Reiki teacher and author of The Essence of Reiki. Visit www.thehealingco.com for more information.
LOOK OUT FOR A FULL LENGTH REVIEW OF REIKI IN THE NEXT ISSUE OF ARTHRITIS DIGEST
Click here if you would like to submit your story to Arthritis Digest.
Arthritis Digest Magazine was selected by Feedspot as one of the Top 5 Arthritis Blogs on the internet in 2018.
For more in-depth features, interviews and information, subscribe to Arthritis Digest magazine, a popular title that's published six times a year. Click here for the digital version or tel 0845 643 8470 to order your had copy. You'll know what your doctor is talking about, what new drugs are in the pipeline and be up to date on helpful products.