Yoga and meditation reduce chronic pain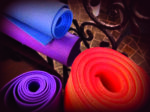 A mindfulness-based stress reduction course resulted in improvement in levels of pain, depression and disability, adding to previous research that shows that yoga and meditation are useful for treating chronic pain.
Participants received intensive instruction in mindfulness meditation and yoga during an eight-week period. The results were analysed and reported in the Journal of the American Osteopathic Association.
Most of the study respondents (89%) reported the programme helped them find ways to better cope with their pain while 11% remained neutral. Some people found they no longer needed to use antidepressants.
"Many people have lost hope because, in most cases, chronic pain will never fully resolve," says Dr Cynthia Marske, who is involved in the work. "However, mindful yoga and meditation can help improve the structure and function of the body, which supports the process of healing.
"Chronic pain often goes hand-in-hand with depression. Mindfulness-based meditation and yoga can help restore both a patient's mental and physical health and can be effective alone or in combination with other treatments such as therapy and medication."
The findings bolster other evidence that mindfulness-based stress reduction can be a useful treatment for chronic pain while improving perceived depression.
"The bottom line is that patients are seeking new ways to cope with chronic pain and effective non-pharmaceutical treatments are available," concludes Dr Marske. "Our findings show meditation and yoga can be a viable option for people seeking relief from chronic pain."
Interested in yoga? Click here for a full review on yoga and arthritis.
Arthritis Digest Magazine is selected by Feedspot as one of the Top 5 Arthritis Blogs in 2020.
For more in-depth features, interviews and information, subscribe to Arthritis Digest magazine, a popular title that's published six times a year. Click here for the digital version or tel 01892 354087 to order your hard copy. You'll know what your doctor is talking about, what new drugs are in the pipeline and be up to date on helpful products.