Zumba dancing and aerobic exercise improve memory and reduce depression in fibromyalgia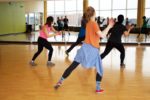 Working memory seems to be improved – and depression reduced – by aerobic exercise training and Zumba dancing for women with fibromyalgia, a team reports in the European Journal of Sports Science.
Experts compared the impact of two different interventions, aerobic exercise training and Zumba dancing, on working memory, motor function and depressive symptoms in 60 women with fibromyalgia.
They divided the participants into three groups for 12 weeks: aerobic exercise training; Zumba dancing; or control. Working memory, motor function and depressive symptom severity were assessed at the start and end of the study.
Working memory and depressive symptoms improved most for women assigned to Zumba dancing, followed by aerobic exercise training. The control group showed little change. Motor function improved in both intervention groups, but the effects did not reach clinical relevance.
"Aerobic exercise training and Zumba dancing can be recommended as add-ons to standard care to improve working memory and to reduce severity of depressive symptoms among female patients with fibromyalgia," the experts write.
The research adds further weight to the evidence that regular participation in activities involving physical exertion has a positive impact on psychological functioning in people with fibromyalgia.
Arthritis Digest Magazine was selected by Feedspot as one of the Top 5 Arthritis Blogs on the internet in 2018.
For more in-depth features, interviews and information, subscribe to Arthritis Digest magazine, a popular title that's published six times a year. Click here for the digital version or tel 0845 643 8470 to order your had copy. You'll know what your doctor is talking about, what new drugs are in the pipeline and be up to date on helpful products.