A chance diagnosis of Sjogren's syndrome heralded the start of Stephen McPhail's long road to recovery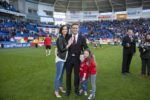 All footballers feel lucky to be living the dream but Stephen McPhail appreciates his place on the pitch more than most.Not only has he successfully defeated cancer in the form of non-Hodgkin's lymphoma, but Stephen, who is just 34 years old, has now come to grips with Sjogren's syndrome to such an extent that he's no different to any other player in Sheffield Wednesday.
Sjogren's syndrome is an autoimmune condition where the body's immune system attacks glands that secrete fluid, such as the tear and saliva glands.
Evidence suggests that Sjogren's syndrome may be as common as rheumatoid arthritis. There are a significant proportion of people in whom it is not being correctly diagnosed, leaving people suffering in silence. And that was Stephen's experience for some time.
"I was diagnosed with Sjogren's in summer 2009 but I'd had symptoms such as dry eyes and mouth and swelling on my joints for about 18 months beforehand," he explains. "If it wasn't for the lump in my neck – the lymphoma – being taken out, I suspect it would have been longer before Sjogren's was diagnosed.
For the last 18 months, Stephen feels that he is back in control of his health. But it's been a tough ride.
"My medication has been changed and tweaked a number of times, as for a long time nothing made a difference," he says. "After the initial diagnosis I couldn't play football and wasn't back to form for two years. My club and the club doctor were very supportive as they knew it was a poorly understood diagnosis and unusual in an athlete. It was hard for my family – I have two young children – and I couldn't work, was moody and lacking in energy."
Stephen went to the US and sought further advice from a specialist and eventually his health started to improve.
"It's been quite a journey but I have a strict regime that has worked for me for the last 18 months and I haven't experienced a flare-up for about six months. Now when symptoms come on – dry eyes and mouth, swollen glands and aching joints – I know a flare-up is coming so I take antibiotics and steroids and nip it in the bud. During winter months I usually experience more flare-ups.
"I have got to know my body extremely well and have a strict daily routine that has become part of my life. Because I have coeliac disease too I have to avoid gluten, but it seems to help my Sjogren's as well. I eat a lot of vegetables, avoid sugar, fizzy drinks and alcohol; I take multivitamins and omega-3 daily and vitamin d in winter.
"I practise yoga as often as I can, even if it's only 20 minutes in the evening or morning, it makes a huge difference. A hot bath for 10 minutes before training helps warm up my joints. And I have acupuncture when my joints are painful."
Stephen is as fit as he's ever been and has a full-on schedule of matches twice a week, training three days a week and two days off.
"Because I've got to the bottom of my Sjogren's, I'm now no different to the other guys on the team. But others struggling write to me and I try to reply to every letter and message and explain what's helped me. The British Sjogren's Syndrome Association (BSSA) is a great starting point for advice.
"My advice for anyone with Sjogren's syndrome is, don't give up and let it rule your life. Try different avenues, find a routine that works for you and makes a difference… and stick to it."
To contact the British Sjogren's Syndrome Association (BSSA) visit www.bssa.uk.net or tel 0121 478 1133.
First published Spring 2014
For more in-depth features, interviews and information, subscribe to Arthritis Digest magazine, a popular title that's published six times a year. Click here for the digital version or tel 0845 643 8470 to order your had copy. You'll know what your doctor is talking about, what new drugs are in the pipeline and be up to date on helpful products.