Yoga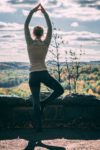 The scene on the high street may be gloomy, but elsewhere some sectors are enjoying good times. The fitness industry is one of the UK's current success stories. There are more gyms than ever before in the UK (some 7,000) but it isn't just about hot-footing it to the treadmill. "Yoga" is one of Google's most searched-for words, and the yoga and Pilates business is bringing in over £812m a year.
Young and old, in fine fettle or otherwise, yoga appears to have something to offer almost everybody. Widely available in town halls, leisure centres and health clubs, yoga is an ancient form of exercise that uses postures and breathing to improve strength and flexibility and boost physical and mental wellbeing.
Increasingly, yoga is seen to be a positive way to relieve some of the symptoms of arthritis.
"Practicing yoga helps you overcome and prevent many stresses, strains, aches and pains," says Judi Sweeting, chair of therapy for Iyengar Yoga UK. "It promotes a firm foundation for health and well-being and can reduce joint pain and improve flexibility."
Dr Fiona Chikusu, clinical advisor for Versus Arthritis, comments:
"Arthritis affects over 10 million people in the UK and can have a devastating impact on a person's life, making everyday activities such as getting dressed in the morning or preparing meals incredibly painful.
"There are a number of ways to manage the pain of your arthritis, including medication, exercises and changes to diet. We know that some people have found practising yoga to be beneficial in helping them to manage their pain. There is increasing evidence to support its effectiveness for treating osteoarthritis and fibromyalgia and some patients with lower back pain have reported significant reduction in pain. I would encourage people with arthritis to try yoga, as the combined physical and emotional benefits can help to manage the pain and fatigue."
The evidence
Research into the benefits that yoga can have on osteoarthritis symptoms is now fairly well established. One recent study of interest found that chair yoga is an effective way to reduce pain and improve quality of life for people with osteoarthritis (Journal of the American Geriatrics Society).
"With osteoarthritis-associated pain, there is interference in everyday living, limiting functional and social activities as well as diminishing life enjoyment," explains Dr Juyoung Park, who is involved in the work. "The effect of pain on everyday living is most directly captured by pain interference, and our findings demonstrate that chair yoga reduced pain interference in everyday activities."
It has been a different picture when it comes to rheumatoid arthritis, but evidence is now beginning to stack up. In 2018 an analysis of the data found that yoga seems to reduce symptoms of knee arthritis and promote physical function in people with rheumatoid arthritis and osteoarthritis. The authors concluded that "regular yoga training is helpful in reducing knee arthritic symptoms, promoting physical function, and general wellbeing in arthritic patients".
And in 2019, exciting research in Restorative Neurology and Neuroscience found that yoga actually enhances rheumatoid arthritis remission at a molecular level, and reduces depression too.
"Yoga, a mind body intervention re-established immunological tolerance by aiding remission at molecular and cellular level along with significant reduction in depression," the research group outlines. "Thus in this severe autoimmune inflammatory arthritis with a major psychosomatic component, yoga can be used as a complementary/adjunct therapy."
Back pain has been a focus, with a large study carried out at the University of York in 2011, which a total of 313 people took part in. Specialist group yoga classes led by multiple trained yoga teachers were found to give significant benefits to people with non-specific chronic and recurring low back pain. The benefits were still enjoyed 12 months after beginning the 12-class "Yoga for Healthy Lower Backs" course and most of the group continued to practise yoga at home.
Another (albeit small) trial looked at the impact of yoga and fibromyalgia. A total of 25 women were assigned to a yoga programme for eight weeks and compared to 28 women who did no yoga. At the end of the treatment, women in the yoga group reported greater improvements in pain, fatigue, stiffness, depression and engagement in activity. But no differences between groups were reported with respect to joint tenderness and sleep.
There is still a need for more high-quality studies but the general consensus is that yoga is a safe and effective way to increase physical activity, especially strength, flexibility and balance for people with arthritis.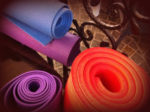 What to look for in a yoga class
"If you have not tried yoga before, I recommend that you practise it under the guidance of a trained yoga teacher," says Dr Chikusu. "The teacher should be made aware of your condition, so that you can start slowly and not put excessive strain on the joints. Regular practise is also important and can prevent a sedentary lifestyle, which can increase joint pain and stiffness."
Unfortunately there is a huge choice of classes and no specific qualifications are required to teach yoga in the UK. Some teachers are not qualified enough to teach people with arthritis. As a minimum, make sure the teacher has a teaching certificate, plenty of experience, accreditation from a yoga association and insurance.
Ask questions before you sign up. Primarily, check that the teacher has experience of teaching people with your condition, whether it is a strenuous type of yoga, do they use props to individualise the yoga for your needs, and will you feel lost within a very large group? Never start in an advanced or intermediate class; instead, find a gentle class for beginners (ideally one where everyone is just beginning together).
Judi Sweeting is an advocate of Iyengar yoga in particular because of its emphasis on absolute safety and correctness.
"Iyengar yoga is methodical and progressive," she explains. "When necessary, it uses supports called 'props' that allow students to progress in their practise of postures safely at their own pace, to suit their body. Beginners work in a basic way on simple postures according to their capabilities. As they develop they move on to more refined ways of working as well as to more complex postures
"Iyengar yoga therapy represents the gold standard in its field. All of its approved therapists have a minimum of 18 years' experience and extensive training. Many even run classes specifically for people with specific health problems."
How much does it cost?
Expect to pay around £10 per yoga session depending on where you are in the UK. Classes vary from 45 minutes to 1.5 hours. A longer class gives the opportunity for more breathing and relaxation and the teacher will have more time to work with you as an individual. And then patience is the name of the game.
The beauty of yoga is that you can practise anywhere, and take what you learn from the sessions into your own home.
"Arthritis and yoga fit – the lock and the key, the illness and the antidote," says Judi. "Arthritis restricts movement, yoga increases range of movement, these two were made for each other.
"Attend classes regularly, don't worry if you are stiff, overweight or past the 'first flush of youth', listen to your teacher, practise what you learn at home between classes and you will be so pleased with the results of your efforts. "
Further information
True story: Claire Redwood, aged 55 years old, Bristol
"I have practised yoga every day for around 21 years and for the last 16 years have taught Iyengar yoga. I cannot emphasise enough how much it has helped me emotionally and physically. It has fined tuned my intelligence to notice subtle changes within myself to help me practise in an appropriate way. Most importantly, it has given me courage to test what I can do, to endure some 'healthy' pain while stretching my joints to keep me mobile. It takes courage and discipline to keep practicing however hard it might feel.
"My advice for anyone with arthritis looking for a yoga class is to find an Iyengar yoga teacher. The Iyengar Yoga (UK) has a website where you can enter your postcode to find the nearest class to you. Iyengar yoga teachers have a rigorous teacher training process and are trained to deal with injuries in a very safe manner, using props where appropriate to practise a pose safely. There is a programme of poses specifically for rheumatoid arthritis that can be adapted for beginners – the important thing is to not hold poses for a long time.
"I lost a lot of muscle strength during the first year of rheumatoid arthritis and tried a gentle body conditioning class once a week. I noticed this aerobic activity also reduces joint swelling. For me the essential thing is to keep physically active to improve circulation and reduce swollen joints."
We asked, on social media, if yoga helps our readers manage arthritis symptoms:
Facebook: Yes it helps me a lot. The stretching is wonderful.
Facebook: I find it to be very helpful for flexibility and some strength, however, sometimes I have to modify positions to keep pressure off particular joints (eg wrists and hands)
Facebook: Depending on how I'm feeling, it can be beneficial. Sometimes can be extremely difficult during a flare.
Facebook: Yes it's calming, makes me feel good.
Twitter: Bikram yoga helps me a lot.
Twitter: My RA is too advanced for yoga, I found Pilates a lot more beneficial.
Twitter: Helps a bit but must have a teacher who understands the condition and can amend exercises to suit the student.
Twitter: Seated yoga helps me with back and shoulder flexibility.
Twitter: Yes, hot yoga really helps.