Hydrotherapy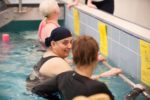 The therapeutic use of water has been recorded in many ancient civilisations including the Egyptians, Greeks and Romans. From bathing in naturally formed hot springs to soaking up essential oils, the healing properties of waters have been a vital part of cultures over the millennia and continue to be so today.
A number of water-based therapies are popular with people with arthritis and hydrotherapy/aquatic physiotherapy – physiotherapist-led treatment and exercise in water – is one option. It's easy to confuse this with hydrotherapy, which is similar in essence but can be carried out by non-specialist physiotherapists, carers or teaching assistants who may not have the underpinning knowledge of anatomy and physiology of an aquatic physiotherapist.
In aquatic physiotherapy, the pool water temperature is maintained within the warming range of 32–35.5 degrees Celsius with the optimum being 34–35 degrees Celsius. People are given special exercises, usually prescribed by  a physiotherapist, which comprise
slow and controlled movements that are adjusted to account for a person's particular symptoms, strength and range of movement. Group sessions may be provided for people with similar conditions.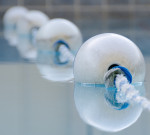 Osteoarthritis
"People with osteoarthritis can benefit immensely from aquatic physiotherapy due to the unique properties of water," highlights Sarah McKeown, committee member of the Aquatic Therapy Association of Chartered Physiotherapists. "Buoyancy provides a relatively weight-free environment in which to exercise, reducing weight bearing on stiff and painful joints and can assist to gently stretch and strengthen muscles  in ways that might otherwise be unachievable on land.
"The warm water is comfortable, which helps improve circulation, allows muscles to relax and provides resistance to help strengthen  weak muscles. Exercise feels easier in water and is often the only place where people with arthritis can exercise with minimal pain. This provides additional social and psychological benefits, boosting participation in exercise and providing a positive impact on the management of long-term conditions including general health, fitness and overall wellbeing."
Inflammatory arthritis
"The National Institute for Health and Care Excellence recommends the use of aquatic physiotherapy as an adjunctive therapy to manage pain and maintain or improve function for people with axial spondyloarthritis." Sarah says. "There is evidence to support more intensive and dynamic exercise for people with inflammatory arthritis such as rheumatoid arthritis that focuses on muscle strengthening and cardiovascular fitness.
"Physical activity is known to impact the immune system and reduce inflammatory markers but there are many factors that might prevent people from achieving their exercise goals such as pain, fatigue, difficulty with weight-bearing or difficulty using exercise equipment. Aquatic physiotherapy can be very effective in reducing these factors and might provide the only possible environment for people to exercise."
Is it safe?
Physiotherapists will always screen people to ensure that they are suitable for aquatic physiotherapy; for most people it is a safe and effective form of treatment.
"There may be safety concerns when mobilising around the poolside particularly for people who may require waking aids but these can usually be evaluated and addressed," says Sarah. "Hydrotherapy pools are usually about waist or chest deep, so you do not need to be able to swim. There is a hand rail around the edge and floats are available to use. Steps descend into the pool, and a mechanical hoist helps people enter and exit the water if need be.
"Patients with acute medical conditions such as epilepsy or asthma, wound or skin infections or those undergoing other forms of treatment might need to be excluded until their symptoms have resolved or their condition has stabilised."
Be careful not to overdo it as the extra support that the water provides may make you feel like you can do more exercise than normal. And of course it is normal to feel tired after the exercise and the warmth of the water.
How does aquatic physiotherapy help?
There are number of ways that aquatic physiotherapy can help people with arthritis:
The warm water encourages muscles to relax and painful joints to ease, which allows the body to exercise;
The water supports the weight of the body, which increases the range of movements the joints can make and helps relieve pain;
Water can be used to provide resistance to moving the joints. Muscle strength can be improved by pushing the legs and arms against the water.
What does the evidence say?
There is high quality scientific evidence that shows that aquatic physiotherapy can improve pain, strength and fitness in people with various types of arthritis and is one of the safest and most enjoyable forms of exercise.  Many studies report enhanced wellbeing and high levels of patient satisfaction when compared with other forms of treatment.
What happens in a course of aquatic physiotherapy?
It is good practice for an individual to be assessed on land before entering the pool. This usually happens in a hospital's physiotherapy department, ward or surgery, where you will be asked about general health and symptoms. After being assessed, the physiotherapist will decide if aquatic physiotherapy is appropriate. This initial assessment usually takes around 45 minutes.
A course of aquatic physiotherapy is based on individual need and the physiotherapist will decide how many treatments an individual receives. On average a course might involve three to six  30-minute sessions in the pool with a physiotherapist who will formulate a treatment programme.
After the initial sessions have finished, people should have the confidence to manage a programme of exercises on their own in their local swimming pool. Some swimming pools offer sessions where the water temperature is increased.
It may be possible to pay for further sessions in the hydrotherapy pool without the physiotherapist. Alternatively, some local arthritis support groups or self-help groups hire a hospital or health club pools to run sessions of aquatic physiotherapy.
How can I access aquatic physiotherapy?
Aquatic physiotherapy is available on the NHS so ask to be referred to a physiotherapist if you are interested; most  (but not all) hospitals have access to hydrotherapy pools. Another option is self-referral to NHS services. Ask your GP, physiotherapist or  rheumatology department about hydrotherapy pools in your area and whether self-referrals are accepted.
Private hydrotherapy pools can be accessed too. If using private healthcare, be aware that private hydrotherapy may be unregulated, which means that the quality of the water, changing rooms and treatment on offer can vary.
It is advisable to ensure the therapist is appropriately qualified. Opting for a chartered physiotherapist, registered with the Health & Care Professions Council and Chartered Society of Physiotherapy who is accredited by the Aquatic Therapy Association of Chartered Physiotherapists (ATACP), should provide confidence that the physiotherapist is working safely and has the knowledge and skills to provide effective treatment.
The ATACP recently collaborated with Swim England to develop a qualification called Aquatic Activity for Health to help improve the quality and provision of aquatic exercise within the community so that fitness instructors can support those referred by health professionals with a greater knowledge and skill base to work in the water. Keep  a look out for the qualification when you are deciding where to go for aquatic physiotherapy, although bear in mind that the programme is currently being rolled out across the UK.
"Aquatic physiotherapy is a wonderful form of exercise for people with different types of arthritis to try. It's safe and can lead to reduced pain and stiffness and improve function and strength. Plus it benefits other aspects of health and wellbeing, improving quality of life. Take control of your arthritis by building aquatic physiotherapy into your life."
More information
Fancy a staycation with a hydrotherapy pool? Click here for a round-up of UK options.