Calling all rheumatology nurses! Book your place at the RCN Rheumatology Nursing Workshop now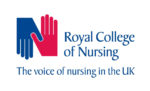 The RCN Rheumatology Nursing Workshop 2018 is on Friday 12 January 2018 at the RCN headquarters in London. Expert speakers will discuss patient fatigue, pain, resilience training, biosimilars and the psychological impact of chronic disease. And delegates will have the chance to share experiences in a safe environment and build skills.
For more information visit www.rcn.org.uk/rheumatology18 or tel 02920 546460.