Decompression surgery does not seem to improve shoulder pain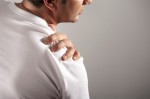 People with chronic shoulder pain may not actually benefit from a form of surgery commonly used to treat the condition, experts outline in The Lancet.
The study adds to the body of evidence suggesting that decompression surgery may not be the best option for people with shoulder pain.
What is decompression surgery?
Decompression surgery is one of the most common surgical procedures in orthopaedics. It involves removal of the spur and soft tissue from part of the shoulder blade to prevent physical contact with the tendons during arm movement, with the aim of reducing symptoms.
What does the new research show?
The outcomes of 313 people who had the surgery were compared to people who received no treatment, as well as a third group who were operated on without the bone and soft tissue actually being removed.
The research group found that all three groups had similar outcomes regardless of which treatment they received. The groups undergoing surgery showed a small benefit compared to no treatment, but no clinically important differences were seen.
Lead author Prof David Beard comments:
"The main message from this placebo-controlled study is that arthroscopic decompression shoulder surgery doesn't appear to work in the way that we previously thought. The design of the trial, by having a group of patients not undergoing surgery, also helped show that the surgery may not be as effective as first thought – nonoperative patients were doing nearly as well as those having surgery.
"It would be wrong if decompression surgery were now dismissed out of hand, but practice and decision-making for surgery should now involve greater consideration by both patients and surgeons."
For more in-depth features, interviews and information, subscribe to Arthritis Digest magazine, a popular title that's published six times a year. Click here for the digital version or tel 0845 643 8470 to order your had copy. You'll know what your doctor is talking about, what new drugs are in the pipeline and be up to date on helpful products.