Exercise helps prevent cartilage damage caused by arthritis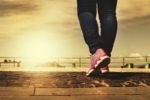 The degradation of cartilage caused by osteoarthritis is prevented by exercise, researchers from Queen Mary University of London report.
The study highlights the benefits of exercise on the tissues that form our joints and how this is down to tiny hair-like structures (primary cilia) found on living cells.
During exercise the cartilage in joints such is squashed. This is detected by the living cells in the cartilage, which then block the action of inflammatory molecules associated with arthritis.
The anti-inflammatory effect of exercise is caused by activation of a protein, called HDAC6, which triggers changes in the proteins that form primary cilia.
Drugs that block HDAC6 activation prevent the anti-inflammatory effects of exercise, and other drug treatments can mimic the benefits of exercise.
Changes in length of the primary cilia provide a biomarker of the level of inflammation. Cilia become longer during inflammation, but treatments that prevent this elongation successfully prevent inflammation.
"We have known for some time that healthy exercise is good for you – now we know the process through which exercise prevents cartilage degradation," says study author Dr Su Fu.
The researchers suggest the results may lead to mechano-medicine, an approach in which drugs simulate the effect of mechanical forces to prevent the damaging effects of inflammation and treat conditions such as arthritis.
Click here to read the original research.
Arthritis Digest Magazine was selected by Feedspot as one of the Top 5 Arthritis Blogs on the internet in 2018.
For more in-depth features, interviews and information, subscribe to Arthritis Digest magazine, a popular title that's published six times a year. Click here for the digital version or tel 0845 643 8470 to order your had copy. You'll know what your doctor is talking about, what new drugs are in the pipeline and be up to date on helpful products.