Fibre-rich foods may lower autoimmune disease risk and improve bone health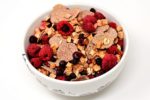 Fibre-rich diets seem to lead to better bone health and lower the risk of autoimmune diseases says research in Nature Communications.
The study gives an insight as to how a diet rich in fibre, can change the behaviour of intestinal bacteria in a way that has a positive impact on chronic inflammatory joint diseases.
Using mice, the team looked at the impact of diet on the composition of intestinal bacteria, which aid digestion by breaking fibre down to be absorbed by the body.
We already know that this process creates short-chain fatty acids that stimulate intestinal movements and deliver an anti-inflammatory effect. But the new research suggests that eating more fibre changes intestinal bacteria so that more fatty acids are formed in key areas such as the bone marrow, resulting in a reduction in the number of bone-degrading cells.
Sticking to a bacteria-friendly diet may therefore deliver anti-inflammatory effects and have a positive impact on bone density, reducing the risk of being affected by conditions such as rheumatoid arthritis and osteoporosis.
"Our findings offer a promising approach for developing innovative therapies for inflammatory joint diseases, as well as for treating osteoporosis, which is often suffered by women after the menopause," explains researcher Dr Mario Zaiss. "We are not able to give any specific recommendations for a bacteria-friendly diet at the moment, but eating muesli every morning, as well as enough fruit and vegetables throughout the day, helps to maintain a rich variety of bacterial species."
Click here for more news stories about food and arthritis.
For more in-depth features, interviews and information, subscribe to Arthritis Digest magazine, a popular title that's published six times a year. Click here for the digital version or tel 0845 643 8470 to order your had copy. You'll know what your doctor is talking about, what new drugs are in the pipeline and be up to date on helpful products.