Hip steroid injections associated with bone changes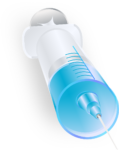 People with osteoarthritis who had a steroid injection in the hip had a greater incidence of loss of blood supply to the bone (osteonecrosis) and bone collapse compared with control groups, according to new research.
Injections of steroid and anaesthetic are a common treatment for people with joint pain and inflammation.
Now a team of radiologists has looked at data from 102 people (aged 19–92 years) who had X-ray images of their hip at the time of a steroid/anaesthetic injection and during a follow-up three to nine months later. They were compared with 102 people who had hip X-rays without steroid/anaesthetic injection and 44 people who had imaging and a steroid/anaesthetic injection in the shoulder.
Findings
New osteonecrosis (loss of blood supply to the bone) was seen in 22–24% of hip injection patients, compared to 5–9% in the hip control group and 5% in the shoulder injection control group;
They observed bone collapse in the head of the femur bone in 15–17% of hip injection patients versus 4% of hip control patients and 2% of shoulder control patients;
Hip injection patients showed increased imaging findings of osteoarthritis compared to the control groups, but the differences were not statistically significant.
It could be that people who had hip injections have symptoms of hip pain severe enough to require the injection and may be prone to faster progression of bony changes compared to those in the control groups.
"We need to look at what's going on with the steroid/anesthetic injectate and osteoarthritis patients to determine what's causing the changes that occur in some patients," Dr Connie Chang suggests. "However, we don't want to deter patients from getting an injection. These results are enough to warrant an investigation, but not enough to cancel a procedure."
For more in-depth features, interviews and information, subscribe to Arthritis Digest magazine, a popular title that's published six times a year. Click here for the digital version or tel 0845 643 8470 to order your had copy. You'll know what your doctor is talking about, what new drugs are in the pipeline and be up to date on helpful products.