I see my arthritis as a fight and since taking regular exercise I am one step ahead, reveals Cassie Lockhart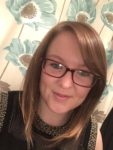 I was diagnosed with palindromic arthritis two years ago when I was 23 years old. At first I tried to maintain my active lifestyle, both physically and socially and would often have to take time off work as I couldn't move. I wrote a piece for Arthritis Digest explaining how I felt defeated asking for help and was struggling coming to terms with my diagnosis.
Last year the doctors allowed me to have two steroid injections on the lead up to and over my wedding day to ensure I would be able to walk down the aisle as things were on edge as to if it would be possible.
My life began to improve in September 2016 when I started a Legs, Bums & Tums class to try to increase movement in the most painful parts of my body. I did this once a week for a couple of months before then adding a weekly class of pilates and yoga that helped me gently stretch my joints and muscles and improve my balance, flexibility and strength. There is always something in the class that I can manage that works around the joints that are achy that day.
The instructor then introduced me to Konga (a mix of boxing, cardio and dance) that is about having fun and keeping moving. I know my body's limits now and I know when to take the easier options during class.
In February of this year I attended a total 13 classes and I have never felt better. There is still pain but I feel I can cope with my flares mentally and physically, and I recover more easily.
I am still on my six sulfasalazine tablets a day but need many less painkillers. Previously I had to take three painkillers a day, but now in a bad week I take three altogether.
I see my arthritis as a fight, and since starting taking regular exercise I feel I am one step ahead. My arthritis is a mental – as well as physical – battle. I used to feel useless and incapable but I have learnt to embrace my body's limits and realise that I don't have to be able to do everything.
I used to laugh when my specialist encouraged me to take exercise. You know what? It's changed my life.
Click here to read Cassie's previous story.
Click here to submit your own story.
For more in-depth features, interviews and information, subscribe to Arthritis Digest magazine, a popular title that's published six times a year. Click here for the digital version or tel 0845 643 8470 to order your had copy. You'll know what your doctor is talking about, what new drugs are in the pipeline and be up to date on helpful products.