Lateral wedge insoles have positive effect on the meniscus in people with knee osteoarthritis suggests new small study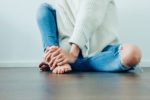 Lateral wedge insoles may decrease aspects of knee osteoarthritis (medial meniscus extrusion), a research group explains in Knee.
The meniscus is a piece of cartilage that cushions and stabilises the knee joint and protects the bones from wear and tear. Tears in the meniscus often lead to malfunction and medial meniscus extrusion and this can lead to osteoarthritis.
Little research has been done into whether lateral wedge insoles can help medial meniscus extrusion. So a research group looked at 31 knees belonging to 18 people with knee osteoarthritis (average age 70 years). They were compared to 22 knees from 11 people of the same age who did not have osteoarthritis.
Ultrasonography was used to evaluate medial meniscus extrusion when people with standing without the insoles, standing with the insoles and lying down.
In both groups, the average values of the medial meniscus extrusion increased when people were standing instead of lying. In people who had osteoarthritis, the medial meniscus extrusion decreased when the insoles were used. In those without osteoarthritis there was no difference in medial meniscus extrusion when the insoles were in place. The authors conclude:
"The lateral wedge insoles could significantly decrease medial meniscus extrusion in patients with knee osteoarthritis."
Click here to read the original research.
For more in-depth features, interviews and information, subscribe to Arthritis Digest magazine, a popular title that's published six times a year. Click here for the digital version or tel 0845 643 8470 to order your had copy. You'll know what your doctor is talking about, what new drugs are in the pipeline and be up to date on helpful products.